8%
LickiMat Tuff Buddy dog licking mat
LickiMat Tuff Buddy is a smart silicone dog licking mat that you can use to feed your dog with SATISFIED Fresh dog food. Spread the food on the mat and serve immediately – or put in the freezer and serve as a cold refreshment, where the food is extra firmly attached.
Instead of swallowing the meal in one mouthful, your dog can now enjoy his fresh dog food for longer. The licking provides a better taste experience and at the same time helps to reduce boredom, restlessness and anxiety.
LickiMat helps clean teeth, gums and tongue because saliva production increases when the dog licks on the mat. This also contributes to a good digestion.
The dog licking mat can be washed in the dishwasher or by hand. It can withstand both freezer and refrigerator.
DIMENSIONS: 20×20 cm
COLOR: Gray and green
129,95 kr.
In stock
| | |
| --- | --- |
| Weight | 0,150 kg |
| Dimensions | 20 × 20 × 3 cm |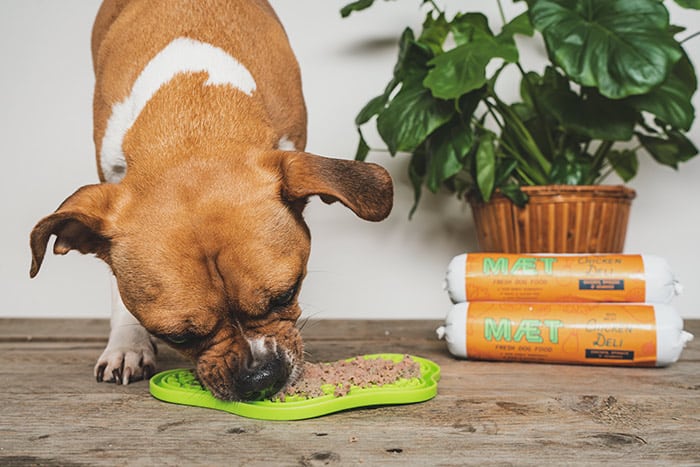 LickiMat – a fun and different food bowl
With a LickiMat you can feed your dog (or cat) in a healthy and fun way. The food is spread on the licking mat and distributed in the checkered holes, so that the dog really has to use its tongue, which makes the eating time last longer. LickiMats are therefore especially good for dogs that eat too fast. At the same time, the licking enhances the dog's sense of taste, so the food tastes even better.
Put MÆT Fresh dog food on the licking mat and serve. Your dog will love it. You can also spread the food on the mat, put it in the freezer for 15-20 minutes and serve as a cold refreshment – e.g. on a hot summer day.
Add a MÆT sample pack to your order so you can try LickiMat together with MÆT Fresh dog food.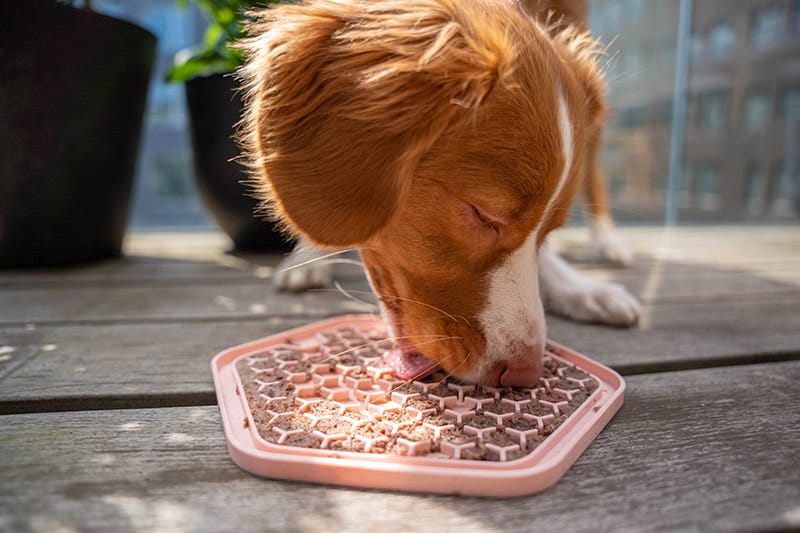 The lollipop mat that reduces boredom, restlessness and anxiety
LickiMat is designed to reduce boredom, anxiety and restlessness in dogs. Licking has a calming effect on the dog because the tongue is stimulated, which releases calming hormones (endorphins) in the body. It is therefore an effective means of promoting calm behavior when your dog needs to be alone at home, or in stressful situations such as thunderstorms, fireworks, nail clipping or vet visits.
It's a good idea to keep an eye on your dog when trying LickiMat for the first time, so you're sure it's not biting the mat to pieces.
LickiMats are good for digestion and oral hygiene
When the dog licks on the licking mat, saliva production is increased, which helps to clean the dog's tongue, teeth and gums. The increased saliva production also provides a better digestion as saliva contains enzymes such as amylase. At the same time, the licking helps to scrape bacteria and food off the tongue, which gives the dog a better breath.
An activity mat developed by veterinarians
LickiMat is an Australian product created by veterinarians. The product is made for dogs and cats, and the purpose is to improve the animals' mental health, digestion and oral health. Over 8 million LickiMats have been sold worldwide, and the popular activity mat is used by dog owners, dog trainers, dog groomers and veterinarians. LickiMats are available in a multitude of sizes, shapes and colors. The mat is durable and durable, so your dog can enjoy it for many years.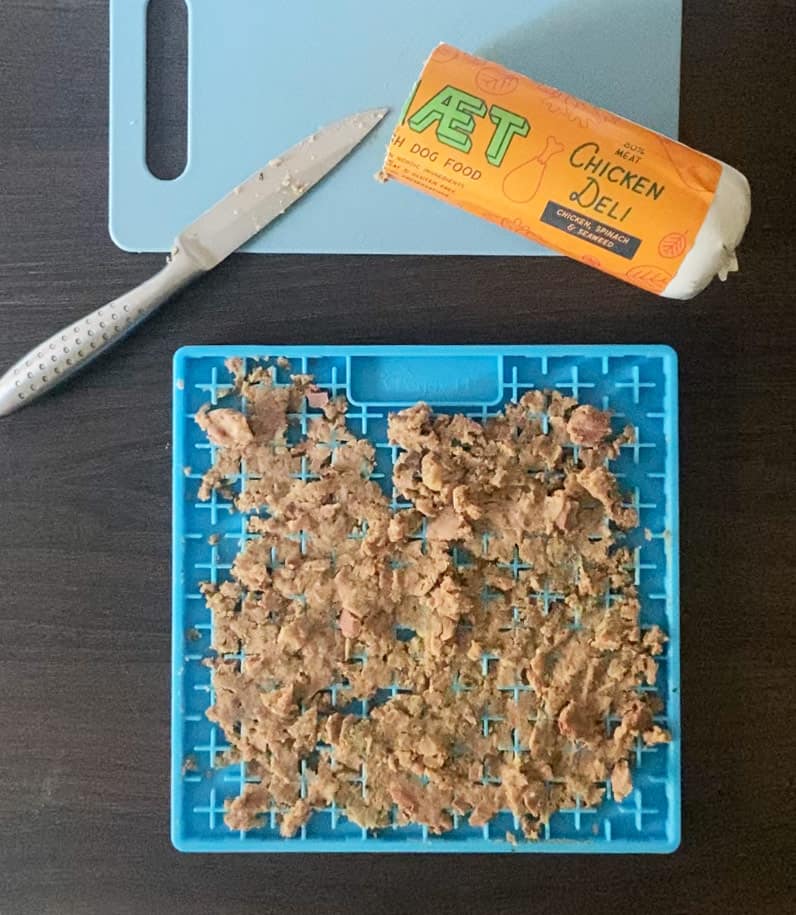 Try LickiMat and fresh dog food
SATISFIED Fresh dog food has a delicious, soft texture, which is perfect for spreading on a dog licking mat. Especially our Deli variants (
Chicken Deli
,
Pork Deli
and
Beef Deli
) are great for this purpose.
If you order both a LickiMat and a fresh dog food trial pack, your dog can try both.