Dog meal box: Fresh dog food and natural snacks
Get healthy and natural dog food made with real meat and healthy vegetables delivered to your door with MÆT's dog food subscription.
✅ Made from Nordic ingredients, lots of flavor and scent
✅ Whole food: Your dog gets all the protein, fiber and vitamins it needs
✅ Flexible subscription, no commitment
✅ Free shipping on purchases over 400 kr.
Build your dog's meal box
Select products, quantity and delivery frequency. That is how it works
From: 0,00 kr.
| | |
| --- | --- |
| Weight | 0,100 kg |
| Dimensions | 30 × 30 × 20 cm |
Anbefalet daglig dosering: 2.5-3% af hundens vægt.
Hvalpe skal have 5-8% af deres kropsvægt.
Vægt / Anbefalet daglig ration (ca.)
| 5 kg | 0,125-170g | ca. 0,25 pølse |
| --- | --- | --- |
| 10 kg | 0,250-350g | ca. 0,5 pølse |
| 15 kg | 375-500g | ca. 1 pølse |
| 20 kg | 5-600g | |
| 30 kg | 750-900g | |
| 35 kg | 875-1000g | svarende til ca. 2 pølser |
| 40 kg | 1-1.200g | |
Når du doserer, skal du tage højde for hundens aktivitet, motion, anden ernæring og snacks.
Prøv vores regnemaskine længere nede på siden.
How MÆT Dog Food Subscription works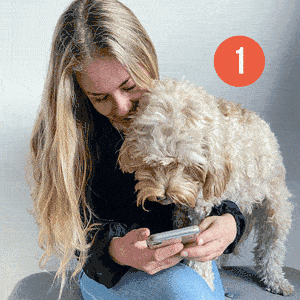 1) Build your dog's meal box
Choose from chicken, pork, beef and salmon. Choose from grain-free Deli meals with 80% meat, or Risotto meals with healthy rice for your tummy.
With
calculator
you can see how much fresh dog food your dog needs.
2) Delivery on Wednesdays between 15-22
We deliver on Wednesdays. Then she can start to rejoice!
You'll receive regular deliveries so you never run out of dog food. You are free to cancel or pause.
3) Healthy food every day
We take care of all the practicalities. Simply take the food out of the fridge when it's feeding time. Quick and Easy!
Your dog will have renewed food enjoyment and a great taste and smell experience at every meal ❤️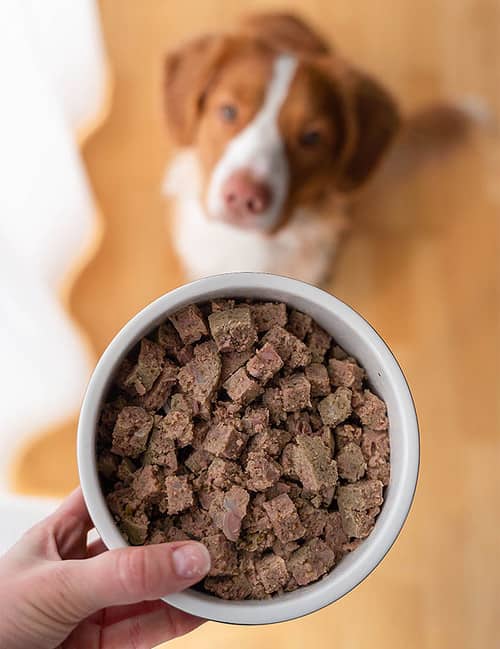 How much MÆT should your dog have?
Use our calculator to find out how much MÆT Frisk dog food your dog should eat.
Fresh dog food is created with your dog's well-being in mind ❤️
Fresh dog food from MÆT is a more natural type of dog food, made from real meat and healthy vegetables from Nordic farms. It's pure, high-quality ingredients that have been gently prepared. The result is a nutritious meal with lots of flavor and aroma.
Your dog is part of the family and deserves healthy and tasty food, just like us humans.
Our customers say ...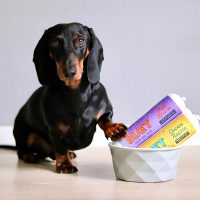 I've never seen my dog more comfortable
⭐️⭐️⭐️⭐️⭐️
"The delivery experience was just superb and both freshness and aroma in the sausages, made my dog almost swallow the food and left his complete food left in the bowl. Dosage schedule on the website and the sausages divided by grams, it could not be easier. No hassle of cutting out rather than pouring whole feed into a bowl. As well as price corresponds to what I will have to give for all other dog food.
My dog is looking forward to every single meal and it's great to see. The coat, energy and satiety are clearly visible. I can say without lying that I have never seen my dog more comfortable. "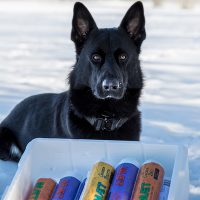 A great success for my skeptical German Shepherd
⭐️⭐️⭐️⭐️⭐️
"I was made aware of MÆT via Instagram, and at the time, I had never heard of fresh dog food before. But after carefully reading the ingredients carefully (and concluding that it was just good raw material!), I gave MÆT a try. And it was a great success!
My German Shepherd may be skeptical when it comes to new foods, but MÆT slipped down with no problems. In addition, their Chicken Feast Risotto has proven to be good if the stomach sometimes teases a little. "
We're fans!
⭐️⭐️⭐️⭐️⭐️
"Hold up it's delicious for him! I've rarely seen him so excited. He could hardly cut the food without complaining to get some… he could smell something good was coming.
We're fans! It's cool with the dimensions on the package which makes it easy to dose correctly. We look forward to testing it on licking mats and in king. Here, we have all too often just used liver pate. So our conscience is a little clearer when we can put in quality feed like this."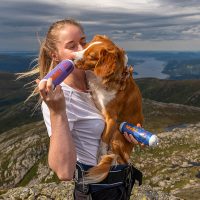 This is the real dog food we recommend
⭐️⭐️⭐️⭐️⭐️
"We have been serving our 20-month-old dog Freja with MÆT for almost a year now, and we are so pleased with the quality of the food. You can really smell that the food is fresh and of good ingredients, where you can still see some of the ingredients in the food such as chicken, pork, carrots and rice.
Freja undoubtedly MÆT , she can hardly keep calm when we start cooking. We have always experienced a great service if we have needed help and now we get MÆT on the door every 4th Friday. It's so easy and convenient! This is really dog food we recommend 🙂 "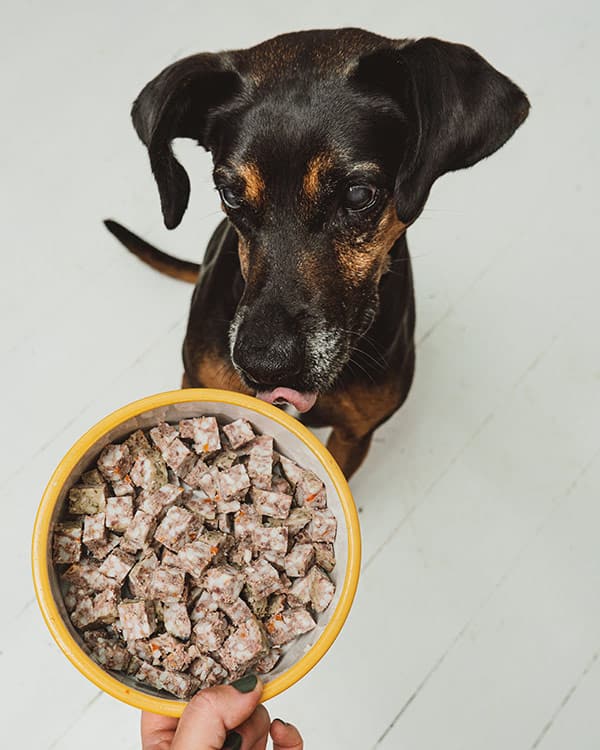 Healthy food is not processed – Switch to natural dog food
With MÆT Fresh dog food, you can give your dog a less processed meal. There are no preservatives or added colors and flavors in the food.
The fresh dog food is easier for your dog's body to absorb than traditional food. The ingredients have been gently heated (sous vide), which preserves as many nutrients as possible, increases food digestibility to 86% and eliminates the risk of bacteria.
The ingredients are supplemented with specially selected vitamins and minerals, so that your dog gets a complete meal with all the nutrients it needs.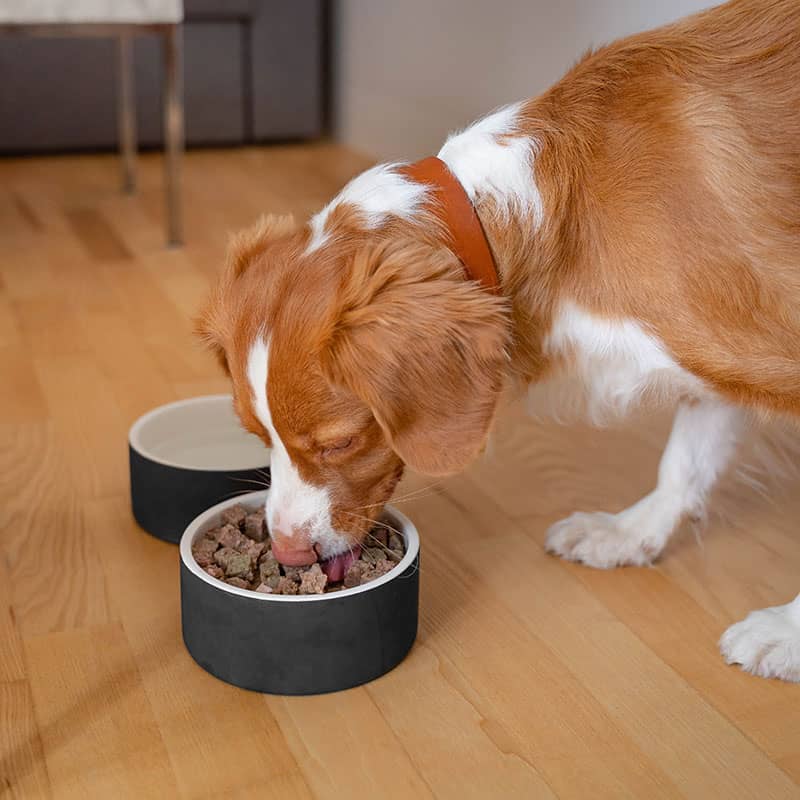 An amazing taste and smell experience
Fresh dog food from MÆT has the most delicious taste and smell, so your dog can look forward to mealtime every day.
As soon as the meal box arrives at the door, your dog will smell the delicious ingredients in the fresh dog food.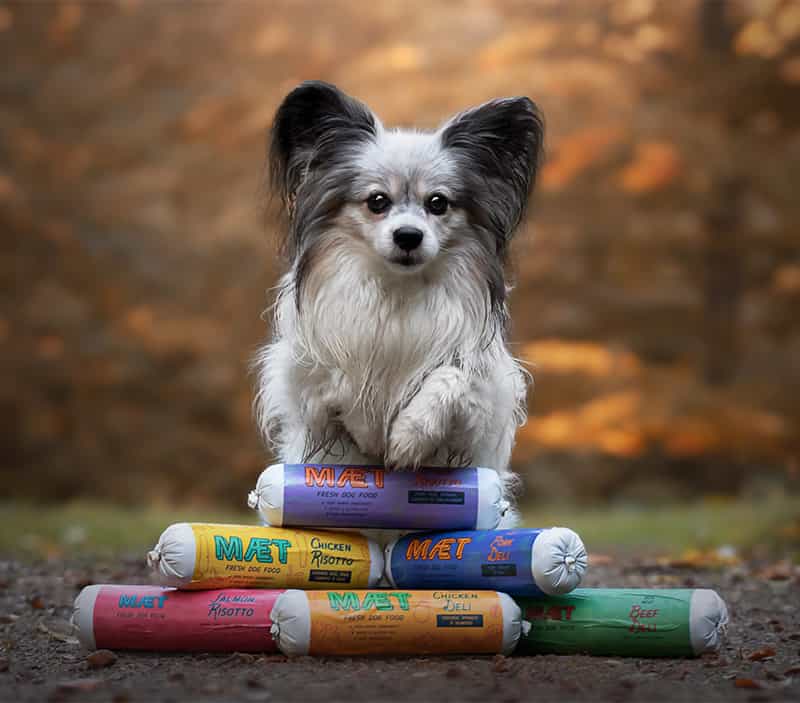 Nutritious recipes created by a dog nutritionist
The fresh dog food recipes are prepared by our dog nutritionist (Msc. Animal Science specializing in Canine Nutrition, University of Helsinki).
She has taken the daily nutritional needs of dogs and created well-balanced recipes that have the right mix of protein, carbohydrates, vitamins and minerals that a healthy dog needs.
Questions and answers
When do you deliver?
We deliver on Wednesdays between 15-22 with Gordon Delivery. If you order before Sunday at 6pm, you will receive your delivery on Wednesday. Otherwise, you will receive your delivery the following Wednesday.

Can I change my subscription and is there a commitment?
Yes, the subscription is very flexible. Log in and then click on 'My subscription'. From here you can make your changes.
No, there is no binding subscription. You are free to cancel or pause it.
Can I try MÆT without a subscription?
What is the difference between Deli and Risotto dog food?
MÆT Deli recipes contain vegetables and a whopping 80% meat, and are grain and gluten free.

MÆT Risotto recipes are gluten-free and contain meat, vegetables and rice. The rice helps to create a good balance in your dog's gastrointestinal system.
Can puppies eat SAT of fresh dog food?
Yes. Puppies can eat MÆT Deli meals when they are 4 weeks old. From the age of 8 weeks, they can also eat MÆT Risotto meals. Puppies should have 5-8% of their body weight.
Puppies have special dietary needs. That's why we recommend adding
supplements to your puppy
.
Where can I see the nutritional content?
Fresh dog food from MÆT contains the raw materials' natural nutrients, and we only add extra vitamins and minerals to ensure your dog a complete meal.
You can find the nutritional content, such as protein, fat and vitamin content on the product pages. Read e.g. about Chicken Risotto's nutritional content here.