Snack box
MÆT Dog snack box with bags of delicious natural dog snacks made from pure ingredients. Try a mix of our delicious treats in different hardness, fat percentage and size.
Lots of delicious gourmet dog snacks from the Nordics and Europe
100% dried meat – without additives and preservatives.
Delivered right to your door – easy and simple.
299,00 kr. – 599,00 kr.
A dog snack that is good for the teeth
Dried chicken necks for dogs – also called chicken necks – are an easy and natural way to clean their teeth. So if you want to keep the doggie's bits clean and fine, MÆT Chicken Neck can help.
When the dog chews and crushes the chicken neck with its teeth, plaque is removed from the surface of the teeth. That way, our crispy dog snack helps keep our teeth free of tartar and plaque.
As the natural, dried chicken meat makes the dog use its teeth, this snack also helps to strengthen the chewing muscles.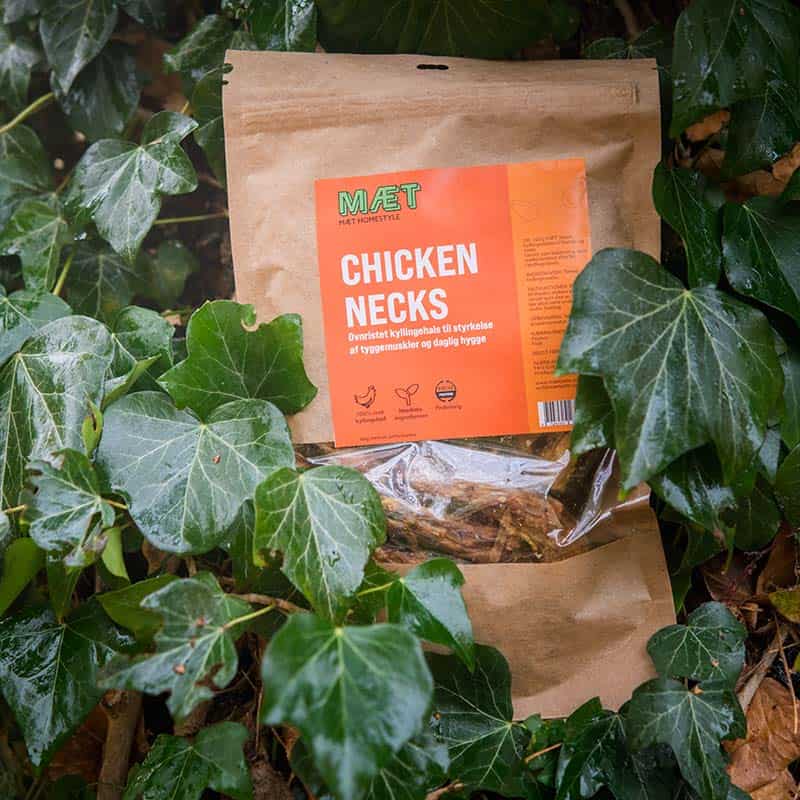 Healthy treats for dogs
If you are looking for healthy treats for dogs, our dried chicken necks are a good choice. Snacks / treats from MÆT are 100% natural without preservatives or additives, so you can pamper your four-legged friend with a clear conscience.
Protein is one of the most important building blocks for the dog's body, and chicken neck contains over 50% protein – completely natural. In addition, chicken neck has a naturally high content of chondroitin and glucosamine, and this dog snack is therefore good for the dog's joints.
Dogs love treats, and we love our dogs, so why not make sure they put their teeth into something that is both good inside and out? With our healthy treats for dogs, you can reward your four-legged friend with a nutritious, natural snack.
Grain-free dog treats
MÆT Chicken Neck are grain-free dog treats that are suitable for dogs with allergies or sensitive stomachs. You will not find either grain or gluten in our treats / snacks – the only ingredient is dried chicken neck, also called chicken neck.
Since many dogs can not tolerate grains, you can feel safe as an owner when you feed with 100% natural and grain-free dog treats. With just one ingredient, you can be sure that there is nothing hiding that your dog can not tolerate. Natural treats / snacks are also easier for the dog to digest.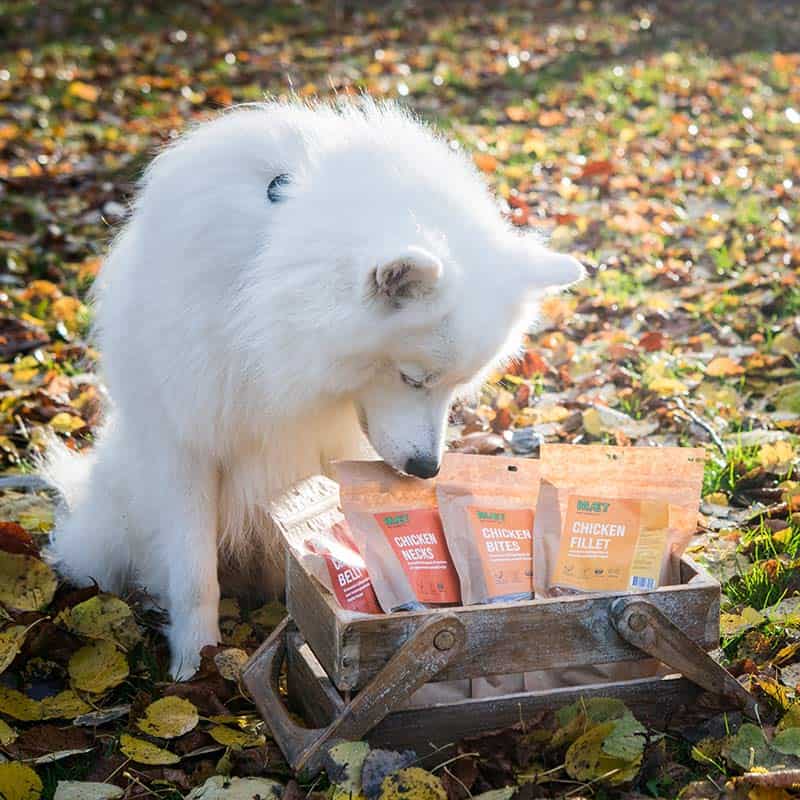 MÆT Homestyle snacks
Chicken Neck is part of the MÆT "Homestyle" series , which consists of natural, oven-baked dog snacks. Each snack variant contains only one ingredient: Delicious, Nordic chicken.
There is no need for additives or anything artificial, as the high quality of the chicken meat gives lots of natural taste and aroma. All we have done is dry it in the oven so that each snack becomes nicely crispy. The treats are packed in a resealable bag, which is easy to take with you on a walk or for dog training.
✅ 100% natural, dried chicken
✅ High quality Nordic ingredients
✅ Grain-free and gluten-free
✅ No additives or preservatives
Udsolgt
Why Choose MÆT Dog Snack Box?
The Dog Snack Box is created with love for our furry family members. Here are some of the reasons why you should consider treating your dog to our snack box:
Variety: Our snack box contains a wide range of flavors, including dried meat strips, crunchy treats and juicy rewards. Your dog will love exploring new flavors.
Quality: We carefully select the snacks and treats that go into each box. All products are made with high quality and are carefully selected to ensure taste and nutritional value.
Surprise and Delight: Your dog will love the excitement of opening their Dog Snack Box and discovering new treats. It's like giving your dog a gift every time.
Health and Wellness: Our snacks are not only delicious, but also healthy. We prioritize nutrition and safety, so you can be sure you're giving your dog the best.
How do I use the Dog Snack Box?
Using the Dog Snack Box is simple and fun:
Open the Box: Carefully open the Dog Snack Box to reveal the delicious surprises inside.
Treat Your Dog: Give your dog a snack or treat from the crate as a reward for good behavior or as a surprise during the day.
Enjoy Together: Share a moment of joy with your dog as you enjoy the different flavors together.
Questions and answers about MÆT Dog snack box
How often should I give my dog a snack from the Dog Snack Box?
You can give your dog a snack from the Dog Snack Box as a reward or as part of their daily routine. Be mindful of keeping track of the amount to maintain a healthy diet.
Are the snacks in the Dog Snack Box healthy for my dog?
Yes, we carefully select snacks that are both delicious and healthy. We prioritize your dog's well-being and nutrition.
Order your Dog Snack Box now
Make your dog happy with our Dog Snack Box. Order your box today and let your dog enjoy a world of delicious flavors and surprises. It's the perfect way to show your love for your four-legged friend.
Order