Toppl
Toppl is a fantastic activating dog toy. Toppl is well suited for heavily chewing dogs and can be filled with i.a. MÆT fresh dog food or our natural treats.
Activating dining
Toppl tips and overturns when your dog tries to get the food out. It can keep your dog entertained and mentally stimulated. Toppl is designed for dogs at all stages of life.
Activity dog toys for MÆT fresh dog food and snacks
Made from recyclable material without latex and phthalates
Designed for interactive supervised play and dogs of all sizes
Dishwasher safe
West Paw Toppl Treat Toy is available in Blue and Green in the following two sizes
Toppl Small measures 7.5 cm – for puppies, small and medium-sized dogs
Toppl Large measures 10 cm – for large dogs over approx. 20 kg
Small and Large can be combined for extra challenging play.
175,00 kr. – 225,00 kr.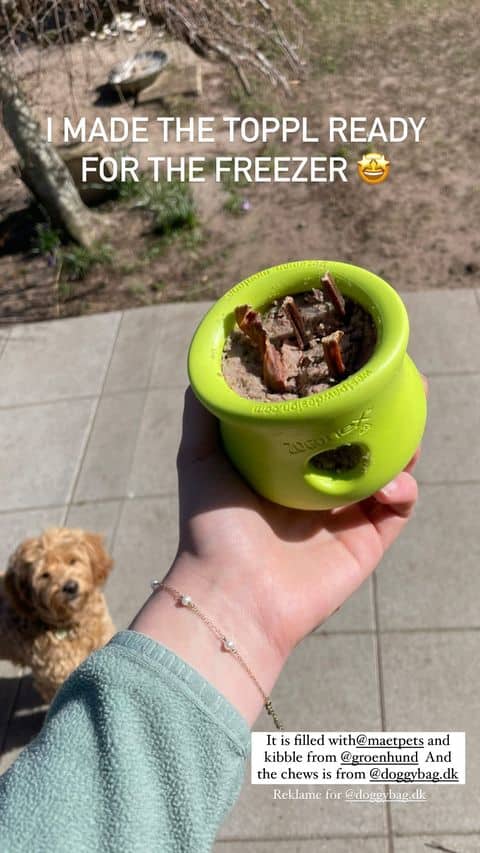 Toppl Dog toys for activation
Toppl West Paw is made of extra strong rubber, and is especially suitable for heavy chewing dogs.
It is a 100% recyclable product made in the USA.
The packaging in which Toppl is packed is also recycled material.
Tops are made of Zogoflex, which is an ultra-durable material that is specially made to withstand strong bites. Zogoflex does not contain any toxic substances.
Toppl dog toy filling
A Toppl is even more tempting when filled with MÆT Deli and snacks. Dishwasher safe for easy cleaning.
You can also buy one of each size and put them together, for a brand new activity toy.
Bonus: For an extra challenge, you can freeze it down until the food is semi-hard, then challenge your dog on all senses and knowledge.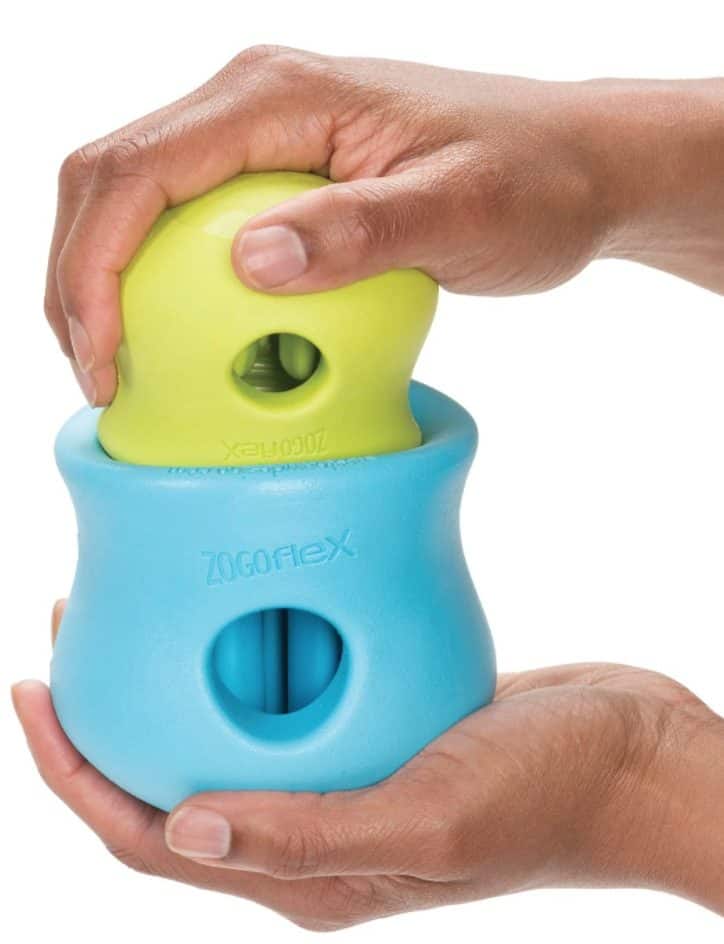 Activation inspiration
1 Combine a small and large Toppl
Stack small Toppl on top of a filled large Toppl.
2 Press together
Push once and combine the two Toppl into an ultra-fun treat puzzle.
3 Turn
For more of a challenge, turn Toppl and lock it.
4 Be creative
Follow us on instagram and see how our customers activate their dog.