Dog meal box – Single purchase
Order MÆT fresh dog food online and get delicious dog food, made from real meat and healthy vegetables, delivered right to your door.
Test MÆT Fresh Dog Food, or give as a gift to someone you love.

Build your own box: choose protein source with/without rice.

Single purchase without subscription
If you want fully automatic delivery, switch to a subscription dog meal box.
99,00 kr.
The best dog food is fresh
Switch to fresh dog food with real meat and healthy vegetables filled with vitamins.
Our Deli meals are grain-free dog food with lots of meat (80%). They are low in calories and are well suited for dogs that need to take care of their weight.
The risotto meals contain healthy carbohydrates and are particularly suitable for gluten-free

dog food for dogs with delicate stomachs

. Both meal variants are available with chicken or pork.
All meals are 500g and can stay fresh 3-4 days after opening.
A satisfied (MÆT) dog is a happy dog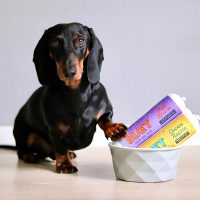 ⭐️⭐️⭐️⭐️⭐️
"The delivery experience was just superb and both freshness and aroma in the sausages, made my dog almost swallow the food and left his complete food left in the bowl. Dosage schedule on the website and the sausages divided by grams, it could not be easier. No hassle. cut out instead of pouring complete food into a bowl. As well as price corresponds to what I will have to give for all other dog food. My dog looks forward to every meal and it is nice to see. The coat, energy and satiety are clearly visible. I can say without lying that I have never seen my dog more comfortable. "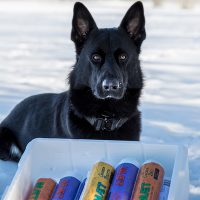 ⭐️⭐️⭐️⭐️⭐️
"I was made aware of MÆT via Instagram, and at that time I had never heard of fresh dog food before. But after reading the ingredients closely (and concluding that it was just good ingredients!), I gave MÆT a try. And "It was a great success! My German Shepherd may be skeptical when it comes to new foods, but MÆT slipped down without any problems. In addition, their Chicken Feast Risotto has proven to be good if the stomach sometimes teases a little."
⭐️⭐️⭐️⭐️⭐️
"Hold up it's delicious for him! ? I have rarely seen him so much up driving. Could hardly be allowed to cut the food out without him standing and grumbling to get something… he could smell that something good was on the way ??
We're a fan! It's cool with the dimensions on the package which makes it easy to dose correctly. We look forward to testing it on licking mats and in king. Here, all too often, we have just used liver pate ? So the conscience is somewhat better when we can put such quality feed in ? "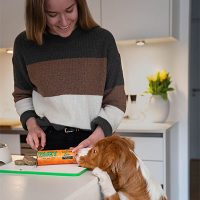 ⭐️⭐️⭐️⭐️⭐️
"We have been serving our 20 month old dog Freja with MÆT for almost a year now, and we are so pleased with the quality of the food. You can really smell that the food is fresh and of good ingredients, where you can still see some of the ingredients in the food such as chicken, pork, carrots and rice. Freja undoubtedly MÆT , she can hardly keep calm when we start preparing the food. We have always experienced a great service if we have needed help and now get we delivered MÆT at the door every 4th Friday. It's so easy and convenient! This is really dog food we recommend 🙂 "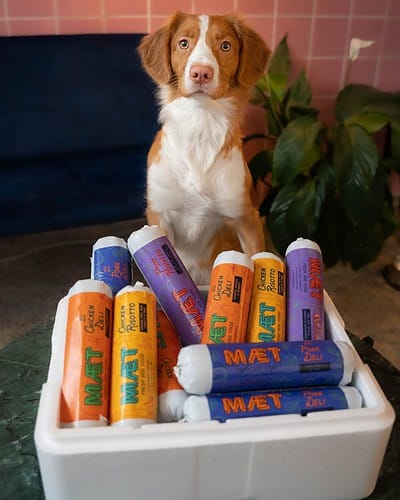 Less processed – more natural dog food
With fresh dog food from MÆT , you can give your dog a less processed and more natural meal with lots of taste, aroma and nutrition. There are no preservatives or added dyes and flavors in the food.
Our meals are made from fresh meat and vegetables from Nordic farms, which ensures high-quality ingredients. The ingredients are prepared mildly with the sous vide method, which preserves as many nutrients as possible, increases the food's uptake to as much as 86% and eliminates the risk of bacteria. The ingredients are supplemented with specially selected vitamins and minerals, so that your dog gets a complete meal with all the nutrients it needs.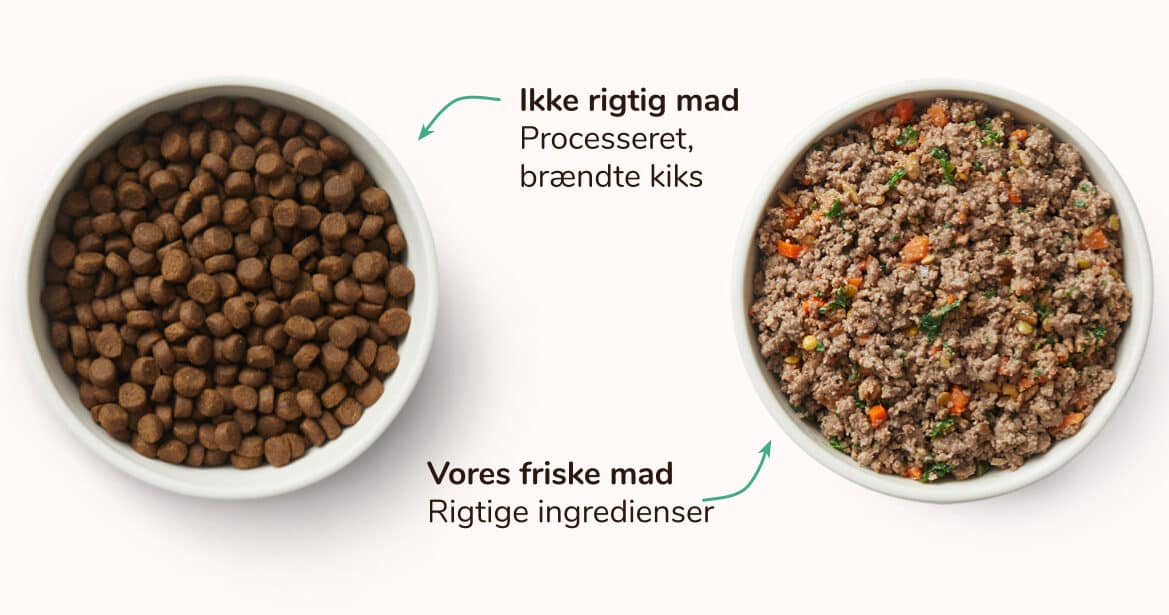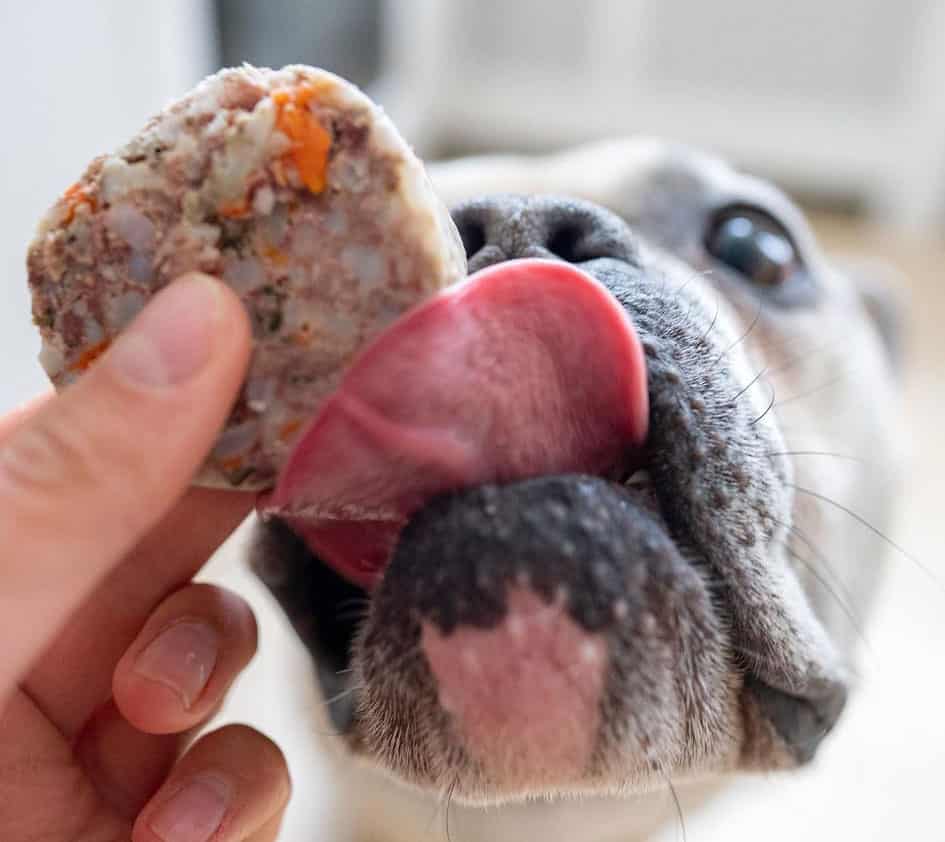 A rich sensory and taste experience
Fresh dog food from MÆT has lots of taste and aroma that caresses the dogs' senses. It's just like the teeth run in water! That is why MÆT is also popular with many discerning dogs, who feel like eating back when the traditional and highly-processed food is replaced with a fresh, delicious and nutritious meal.
order now
Get a healthier dog – MÆT is
dog food for dogs with delicate stomachs
Since MÆT does not contain any preservatives, your dog gets a clean and healthy meal. The fresh ingredients have plenty of nutrition and a natural water content. This gives the food a high absorption (86%), which contributes to a better digestion, a more balanced energy level and a nice coat. Your dog will thank you.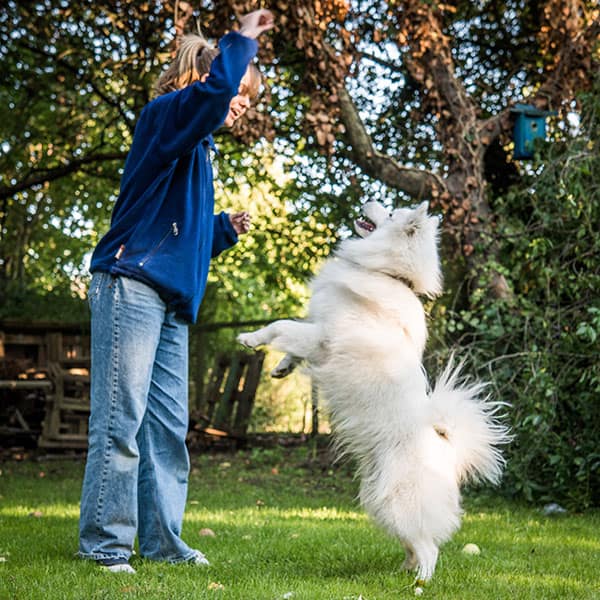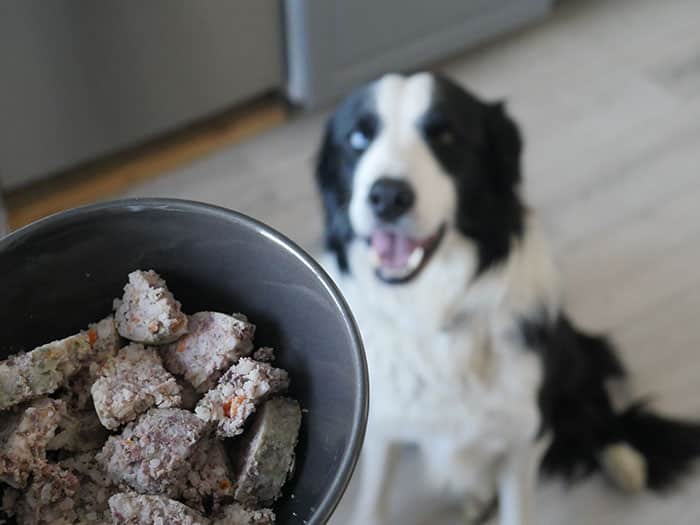 Take out of the fridge and serve – quickly and easily!
Our ready-made meals are packed in sausage form, which you can store in the fridge and take out when it's feeding time. Cut out the food and serve it to your dog – it's that easy! If your dog gets a taste for the delicious food, you can subsequently sign up for our subscription solution and have fresh dog food delivered right to your door.
order now
From dog parents to dog parents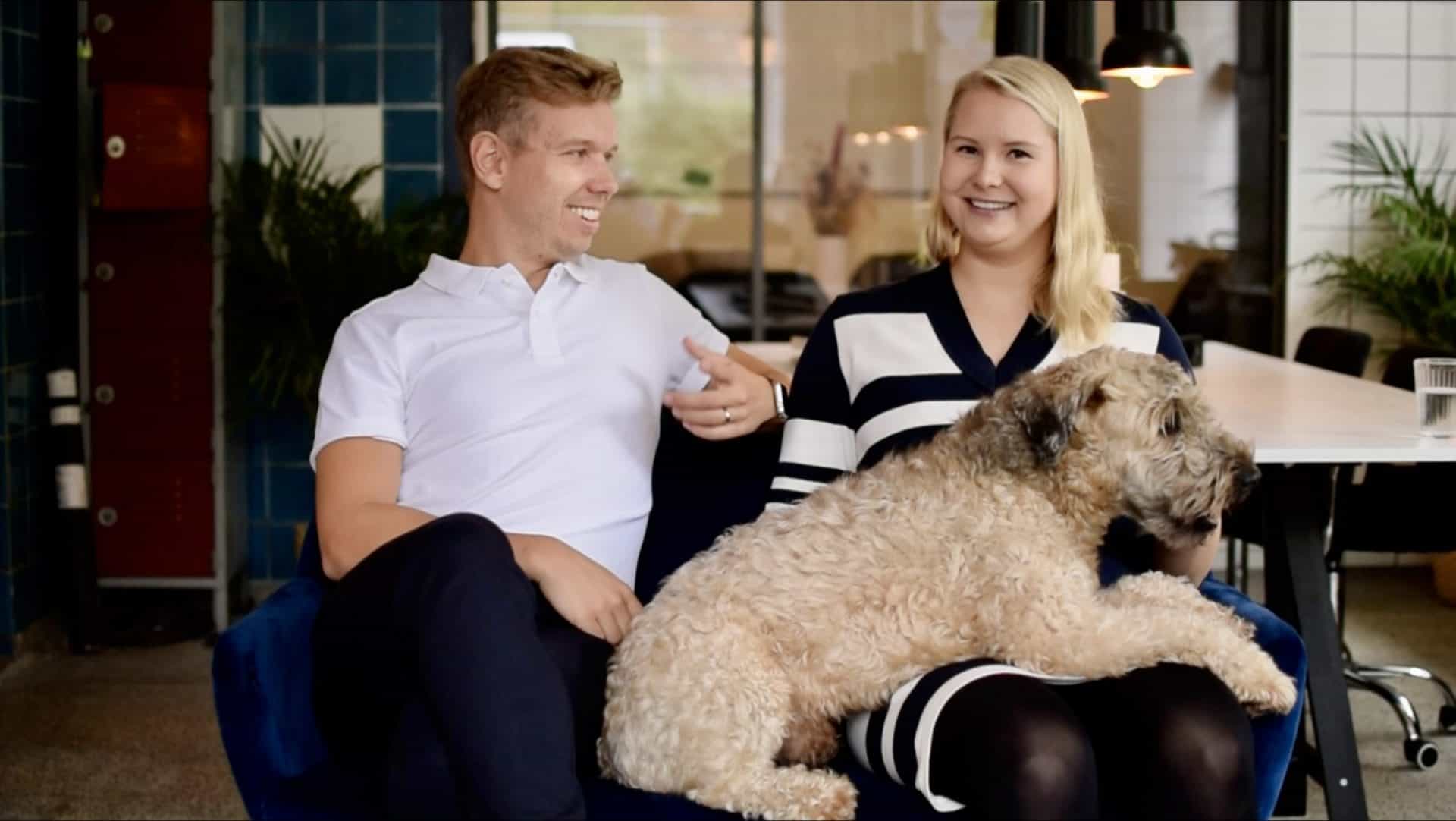 As dog parents, we say "No thanks to bad dog food". Our dogs deserve healthy and fresh quality food – just like us. Food is very important for your dog's health.
We started MÆT because our dog Lenni had become accustomed to freshly produced dog food when we lived abroad and we could feel the food's positive effect on him. At home in Denmark, we could not find fresh dog food in some places, and therefore we took matters into our own hands.
We started MÆT in the summer of 2020, and a little over a year later, more than 1000 Danish dogs smear a fresh, nutritious and healthy meal every single day.
order now
Questions and answers
Why should you choose at least 8 sausages for delivery?
With a sample package you can try all the products as well as snacks, so you can see which dog likes best
Since we send with food-approved transport, the cost is higher than, for example, ordinary mail delivery. That is why we have made a starter pack with 8 products and a snack. This also allows you to slowly start up 50/50 if your dog has previously been on dry food.
You can also choose to order products individually with shipping of DKK 89. – By ordering more in the sample package, you avoid shipping.
Why should I choose fresh dog food?
MÆT's fresh dog food is made from the best Nordic ingredients. There are no preservatives or added dyes and flavors. Fresh dog food is easily prepared with sous vide, which increases your dog's absorption of the food's nutrients.
Fresh dog food has a much higher uptake than other types of dog food, so if you think your dog deserves fresh, healthy and flavorful food then try fresh dog food.
How do I find nutritional content?
Fresh dog food from MÆT contains the raw materials' natural nutrients, and we only add extra vitamins and minerals to ensure your dog a complete meal.
You can find the nutritional content, such as protein, fat and vitamin content on the product pages. Read e.g. about Chicken Risotto's nutritional content here.
Should I choose dog food with or without rice?
Rice is a healthy, gluten-free carbohydrate and can be extra good if your dog tends to have an upset stomach, as cooked rice can soothe the gastrointestinal tract.
Fresh dog food with rice is gluten-free, so if your dog has a gluten allergy, it can still eat MÆT s Risotto dog meals.
If you do not want to feed with grain, MÆT s Deli recipes are a good and healthy alternative. The deli products are grain and gluten free, and especially good for dogs that need to lose weight due to the lower content of carbohydrates.
What is the best dog food for my dog?
It differs from dog to dog, which dog food is best for it. If you experience that your dog often has stomach or intestinal problems, then it may be due to the diet. Likewise, it can be due to a wrong diet if your dog's fur and skin look dull or irritated. Bad breath can also be caused by a bad diet.
Feel free to consult a veterinarian so that your dog can get a professional assessment. Rash, stomach problems, etc. can also be caused by various allergies, and therefore it is always good if you seek advice and guidance from the vet.
What is the difference between Deli and Risotto dog food?
MÆT Deli does not contain grains or gluten. They have a low carbohydrate percentage, and are especially suitable for dogs that need to take care of their weight.

MÆT Risotto contains rice, but is gluten-free. Rice is good for creating a good and healthy balance in dogs' gastrointestinal system.
Both Deli and Risotto are made from fresh Nordic ingredients. They are free of preservatives, dyes and flavors. Only extra vitamins and minerals have been added.
Can I have it delivered regularly?
Yes, try our fresh dog food with a flexible subscription. If you want to get fresh dog food on a subscription, click on the dog meal box.
You can calculate how much fresh food your dog eats with the calculator above.
What about feeding a puppy?
Can puppies eat SAT of fresh dog food?
Yes. Puppies, however, have some special needs in their diet, so you need to supplement with some supplements. When feeding your puppy, we recommend adding A38 as a calcium supplement and eggs as a phosphorus supplement.
When can my puppy eat SATISFIED?
When your puppy is 4 weeks old, it can start eating MÆT meals (Pork Deli or Chicken Deli) – these meals are soft and therefore easy to chew. Your puppy can eat SATISFIED Risotto meals (Chicken Feast Risotto or Pork Party Risotto) from the age of 8 weeks. Remember to supplement with our recommended grants.
How much MEAT should my puppy have?
Your puppy should have 5-8% of its own body weight. Remember to keep an eye on your puppy's weight so you can adjust the feeding accordingly.