KONG Dog Toys (Classic)
With a KONG dog toy you can feed your dog in a fun and more active way. KONG has a fun shape and a hole, so that the dog toys can be filled with, for example, MÆT fresh Deli dog food or natural treats. The KONG toy jumps and jumps unpredictably, making the game more fun and making it perfect for chasing.
89,00 kr. – 199,00 kr.
King Dog Toys
The KONG Classic is the gold standard of dog toys and has become the staple for dogs around the world for over forty years. Offering enrichment by helping satisfy dogs' instinctual needs, the KONG Classic's unique natural red rubber formula is ultra-durable with an erratic bounce that is ideal for dogs that like to chew while also fulfilling a dog's need to play.
Dog activation with MÆT and KONG
You can give your dog MÆT fresh dog food in many different ways. You can use MÆT as a delicious and healthy snack that Freja gets here. A KING filled with MÆT
The red KONG Classic rubber helps to satisfy dogs' instinctive needs.
Healthy play is important for the dog's physical and mental development, emotions and behavior. By promoting healthy play and satisfying instinctive needs, this toy helps solve chewing, separation anxiety, teeth, boredom, weight control, box training, digging, barking and much more!
The unpredictable movement of the KONG Classic allows for exciting retrieval games and other interactive games with your pet.
Recommended by Veterinarians: Veterinarians and trainers worldwide recommend the KONG Classic. Made in the USA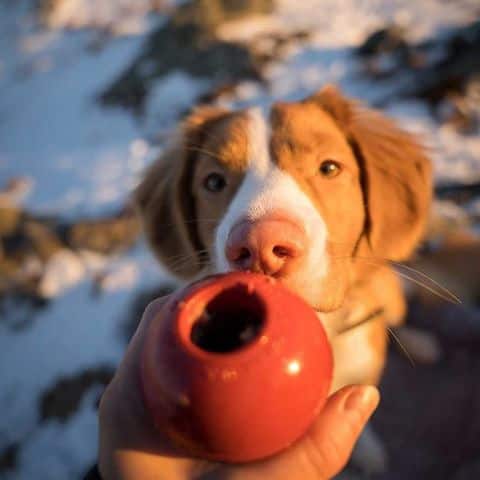 KONG dog toy filling
A KING is even more tempting when filled with MÆT Deli and snacks. Dishwasher safe for easy cleaning.
Bonus: For an extra challenge, you can freeze it down until the food is semi-hard, then challenge your dog on all senses and knowledge.