Pork Deli
MÆT Pork Deli contains as much as 80% pork supplemented with nutritious spinach and delicious seaweed. A feast of fresh meat and vegetables. Pork is packed with healthy proteins and essential fatty acids, and spinach contains both vitamins such as K and E and the mineral magnesium. Seaweed is a natural source of iodine, which supports the thyroid gland and promotes fur and intestinal health.
Pork Deli is fresh dog food, which is especially good for dogs that need to take care of weight, as the meal is filled with healthy proteins and carefully selected carbohydrates in a controlled amount.
NET WEIGHT: 500 g
MEAT CONTENT: 80%
FAT CONTENT: 7.3%
CONTENTS : Pork (80%) (meat and organs), water, spinach (5%), pork gelatin, seaweed (1%), vitamins and minerals.
39,00 kr.
FRESH NORDIC INGREDIENTS
PIG, ORGANS, SPINACH, TANG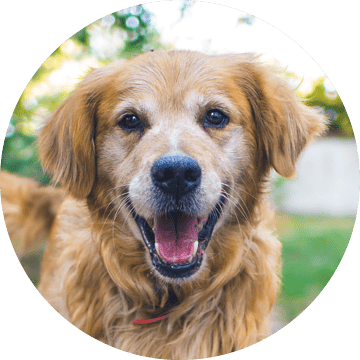 Daily dosage
Recommended daily dosage: 3% of the dog's weight.
Weight / Recommended daily ration (approx.)
5 kg: 150-170g
10 kg: 300-350g
15 kg: 450-500 (equivalent to about 1 sausage)
20 kg: 600g
30 kg: 900g
35 kg: 1000g (equivalent to approx. 2 sausages)
40 kg: 1,200g
When dosing, take into account the dog's activity, exercise, other nutrition and snacks.
"Satisfied is something everyone should try, I have a VERY picky dog and sometimes he can stop eating for up to 3 days, after I have tried MÆT he has eaten every day 🙂 and on top of that it is super healthy and nourishing for the dog.
I want to give the warmest recommendations to all my friends / family. "
Regitze, and Saxo at 2 years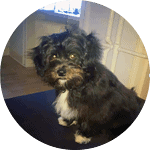 Nutrition information
Pork Deli is dog food without grains, but with fresh meat and vegetables.
Contains all the nutrients, vitamins and minerals
which your dog needs.
NUTRITIONAL CONTENT
Energy 4.8 MJ / kg 1146.0 kcal / kg
Protein ……………………….. 14.0%
Fed / Fat ………………………. 7.3%
Fiber …………………………. 0.8%
Ash ……………………. 1.6%
Calcium ……………………… 0.24%
Phosphorus ………. 0.16%
Water content: 77.4%
Meat content: 80%
Naturally Contained Nutrients:
Vitamin A 3360 IU / kg, Vitamin D 605 IU / kg, Vitamin E 45 IU / kg, Vitamin C 3.4 mg / kg, Vitamin B1 0.5 mg / kg, Vitamin B2 1 mg / kg, vitamin B6 2.8 mg / kg, vitamin B12 0.9 μg / kg, biotin 8.7 μg / kg, niacin 39 mg / kg, pantothenic acid 2.3 mg / kg, folic acid 0.081 mg / kg, zinc 70 mg / kg, magnesium 520 mg / kg, sodium 1200 mg / kg, iron 12 mg / kg, copper 5 mg / kg, manganese 4 mg / kg, potassium 1.6 g / kg, iodine 430 μg / kg, iodine 430 μg / kg.
Of which added nutritional additives:
Vitamin D 450 IU / kg, Vitamin E 40 IU / kg, zinc 60 mg / kg, magnesium 320 mg / kg, copper 5 mg / kg, manganese 1.8 mg / kg, iodine 430 μg / kg.
Nordic raw materials
Fresh meat and vegetables
Filled with vitamins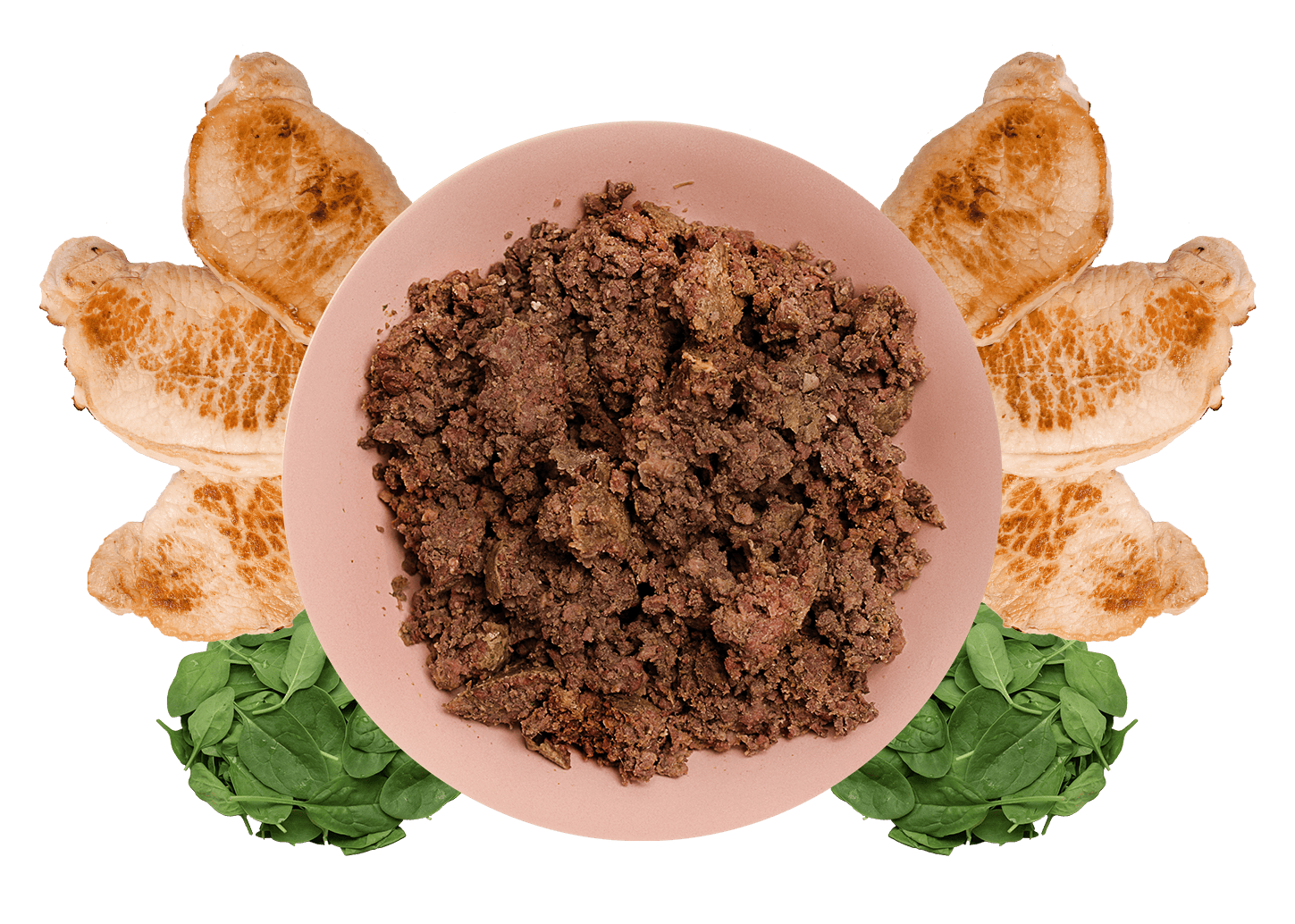 Single protein
High digestibility
No preservatives
Questions and answers
What does MÆT Pork Deli contain?
MÆT s Pork Deli consists of fresh Nordic ingredients. There is as much as 80% pork in Pork Deli. In addition, there is vitamin-rich spinach and seaweed in it. In Pork Deli, extra vitamins and minerals have been added, but no preservatives, colors or flavors have been added.
Why should I choose fresh dog food?
Quis nostrud exercitation ullamco laboris nisi ut aliquip ex ea commodo consequat. Duis aute irure dolor in reprehenderit in voluptate velit
MÆT's fresh dog food is made from the best Nordic ingredients. There are no preservatives or added dyes and flavors. Fresh dog food is easily prepared with sous vide, which increases your dog's absorption of the food's nutrients.

Fresh dog food has a much higher uptake than other types of dog food, so if you think your dog deserves fresh, healthy and flavorful food then try fresh dog food.
esse cillum dolore eu fugiat nulla pariatur. Excepteur sint occaecat cupidatat non proident, sunt in culpa qui officia deserunt mollit anim id est laborum. Sed ut perspiciatis unde omnis iste natus error sit voluptatem accusantium doloremque laudantium, totam rem aperiam, eaque ipsa quae ab illo inventore veritatis et quasi architecto beatae vitae dicta sunt explicabo. Nemo enim ipsam voluptatem quia voluptas sit aspernatur aut odit aut fugit
What is the best dog food for my dog?
It differs from dog to dog, which dog food is best for it. If you experience that your dog often has stomach or intestinal problems, then it may be due to the diet. Likewise, it can be due to a wrong diet if your dog's fur and skin look dull or irritated. Bad breath can also be due to a poor diet.
Feel free to consult a veterinarian so that your dog can get a professional assessment. Rash, stomach problems, etc. can also be caused by various allergies, and therefore it is always good if you seek advice and guidance from the vet.
What is the difference between Deli and Risotto dog food?
There is no grain or gluten in MÆT's Deli recipes. They have a low fat percentage, and are especially suitable for dogs that need to take care of their weight.
MÆT's Risotto recipes contain rice, but they are still gluten-free. Rice is good for creating a good and healthy balance in dogs' gastrointestinal system.
Both Deli and Risotto are made from fresh Nordic ingredients. They are free of preservatives, dyes and flavors. Only extra vitamins and minerals have been added.