Salmon Risotto – Dog food with salmon
Salmon Risotto with delicious salmon, healthy vegetables and rice. A gluten-free meal for your dog.
Dog food with salmon is a natural source of vitamins and the beneficial omega-3 fatty acids support coat and joint health. Salmon risotto is high in energy and is therefore suitable for feeding active dogs or dogs that need more energy.
NET WEIGHT: 500 g
CONTENTS: salmon (46%), rice (13%), water, peas, beans, emulsifiers (E464, lecithin E322), salt, seaweed, dill, vitamins and minerals
39,00 kr.
In stock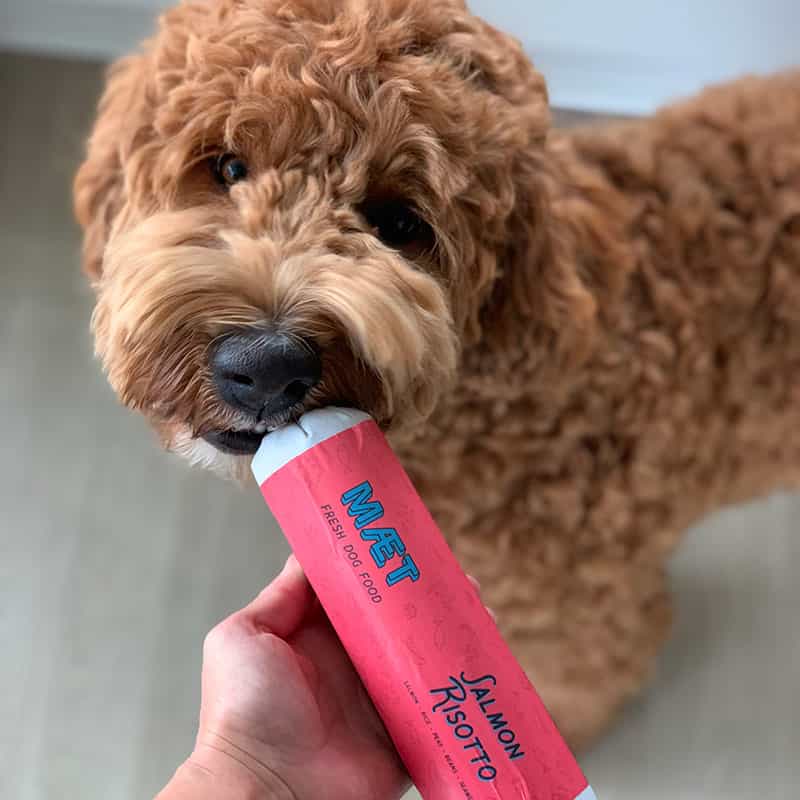 MÆT Fresh dog food with Salmon
Fresh dog food with salmon is an easy way to give your dog a nutritious meal that will keep it happy and healthy. The food contains no corn, wheat, soy or artificial flavors, colors or preservatives.
FRESH NORDIC INGREDIENTS
Salmon (46%), Rice (13%), Peas, Beans, Seaweed, Dill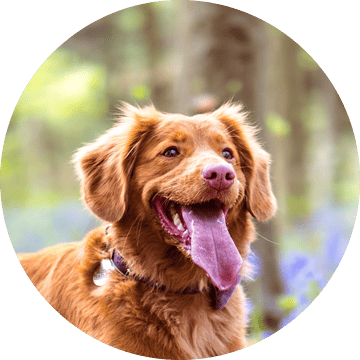 Daily dosage
When dosing, take into account the dog's activity, exercise, other nutrition and snacks.
Recommended daily dosage: 2.5% of the dog's body weight.
Weight / Recommended daily ration (approx.)
5 kg: 125-150g
10 kg: 250-300g
20 kg: 500 (equivalent to approx. 1 sausage)
30 kg: 750g
35 kg: 875g
40 kg: 1,000g (equivalent to approx. 2 sausages)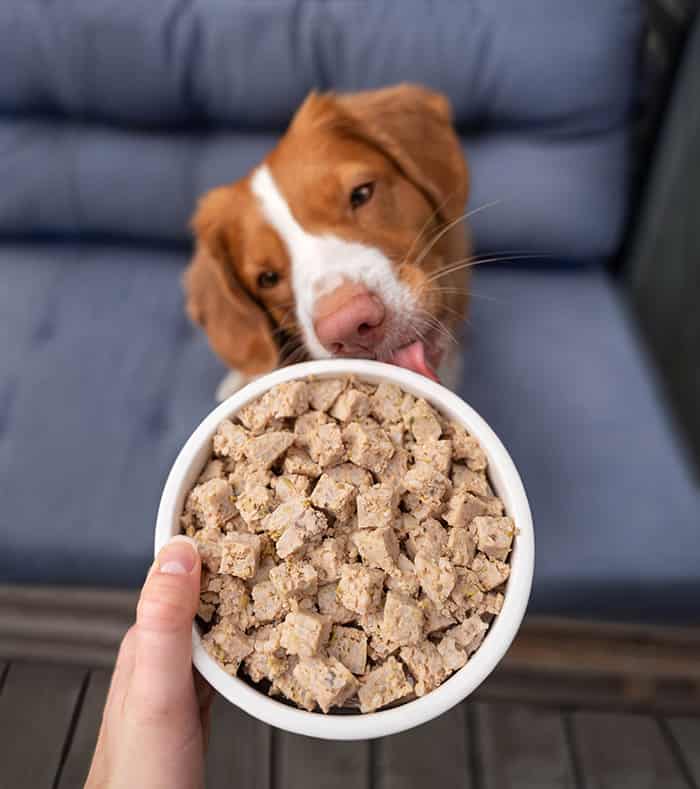 Dog food with salmon packed with omega 3
Our fresh dog food with salmon is made with top quality ingredients to provide complete and balanced nutrition. Salmon is the primary ingredient at 46%.
Salmon is a natural source of vitamin-rich fish oil, containing omega-3 fatty acids for a shiny coat and healthy skin.
No artificial additives, flavourings, colourings or fillers.
Made with a unique antioxidant blend containing vitamin E to help prolong your dog's life.
Contains natural sources of vitamins, minerals and proteins.
A complete pet food for adult dogs of all breeds with a natural source of vitamins, minerals and proteins.
NUTRITIONAL CONTENT
Energi/Energy 7.7 MJ/kg 1839 kcal/kg
Protein ………………………..9,3% Protein ………………………..9,3% Protein
Fat/Fat ……………………….11.9%
Fiber ………………………….. 0.7%
Ash ……………………. 1.6%
Calcium 000.4% Calcium
Phosphorus/Phosphorus ……….,3%
Liquid content: 64.5%.
Meat content: 46% meat content
Naturally Contained Nutrients:
Vitamin A 1103 IU/kg, Vitamin D 1376 IU/kg, Vitamin E 45 IU/kg, Vitamin C 31 mg/kg, Vitamin B1 1.8 mg/kg, Vitamin B2 0.7 mg/kg, Vitamin B6 3.1 mg/kg, Vitamin B12 12.5 μg/kg, Biotin 5.4 μg/kg, niacin 39 mg/kg, pantothenic acid 7.1 mg/kg, folic acid 0.06 mg/kg, zinc 70 mg/kg, magnesium 520 mg/kg, sodium 2300 mg/kg, iron 28 mg/kg, copper 5 mg/kg, manganese 4 mg/kg, potassium 1.6 g/kg, iodine 430 μg/kg.
Of which added nutritional additives:
Vitamin D 450 IU / kg, Vitamin E 40 IU / kg, zinc 60 mg / kg, magnesium 320 mg / kg, copper 5 mg / kg, manganese 1.8 mg / kg, iodine 430 μg / kg.
"My little shih tzu has a pretty delicate stomach and can't stand all dog food. But with MÆT Pets' dog food, my dog's stomach is really fine.
That's the highlight of the day for Kenzo when we find MÆT 's fresh dog food with Chicken Deli. "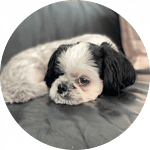 What is Salmon Risotto made of?
The food is made from fresh salmon along with other natural ingredients. It has no added sugar, salt or fat. We use the meat from the whole salmon and not just fishmeal, perhaps based more on bones as many cheap brands tend to do.
Does Salmon have any health benefits?
Fresh dog food salmon is an excellent source of protein, vitamins, minerals, omega fatty acids and antioxidants. It also contains high levels of vitamin D3, which helps support bone growth and development.
Why should I feed my dog fresh salmon?
If you're looking for a healthier option than dry food, consider feeding your pooch dog food with fresh salmon instead. This nutritious treat is packed with nutrients and has no added preservatives, fillers or artificial ingredients.