Chicken Neck
MÆT Chicken necks for dogs are made from 100% chicken meat without additives. MÆT Chicken Neck is a dog snack that can be used as a delicious snack, a healthy reward or for better dental hygiene.
This snack is pure pampering in a healthy way. Dogs of all sizes will love putting their teeth into the dried meat – either as a chewing bone for the smaller dogs, or as a quicker snack for the larger ones.
100% natural, Nordic quality talk
Nothing artificial, just pure chicken
Cleanses the teeth and strengthens the masticatory muscles
Good for the dog's joints
49,00 kr.
A dog snack that is good for the teeth
Dried chicken necks for dogs – also called chicken necks – are an easy and natural way to clean their teeth. So if you want to keep the doggie's bits clean and fine, MÆT Chicken Neck can help.
When the dog chews and crushes the chicken neck with its teeth, plaque is removed from the surface of the teeth. That way, our crispy dog snack helps keep our teeth free of tartar and plaque.
As the natural, dried chicken meat makes the dog use its teeth, this snack also helps to strengthen the chewing muscles.
Chicken necks for dogs – when your dog really needs to be pampered
We call MÆT Chicken Neck a "cozy chewing snack", because it is perfect when your dog needs to have fun and chew on something good. Many dogs find it relaxing to chew, and with a delicious chicken neck, it can hardly get any better.
This dog snack has a higher fat content than our other snacks, and it is therefore obvious when your dog needs to be pampered.
Our chicken necks for dogs measure approximately 9 cm. Of course, the smaller your dog is, the longer this snack will last. It therefore works mostly as a chewing bone for smaller dogs and as a faster snack for larger dogs. However, all sizes will love the delicious taste and texture.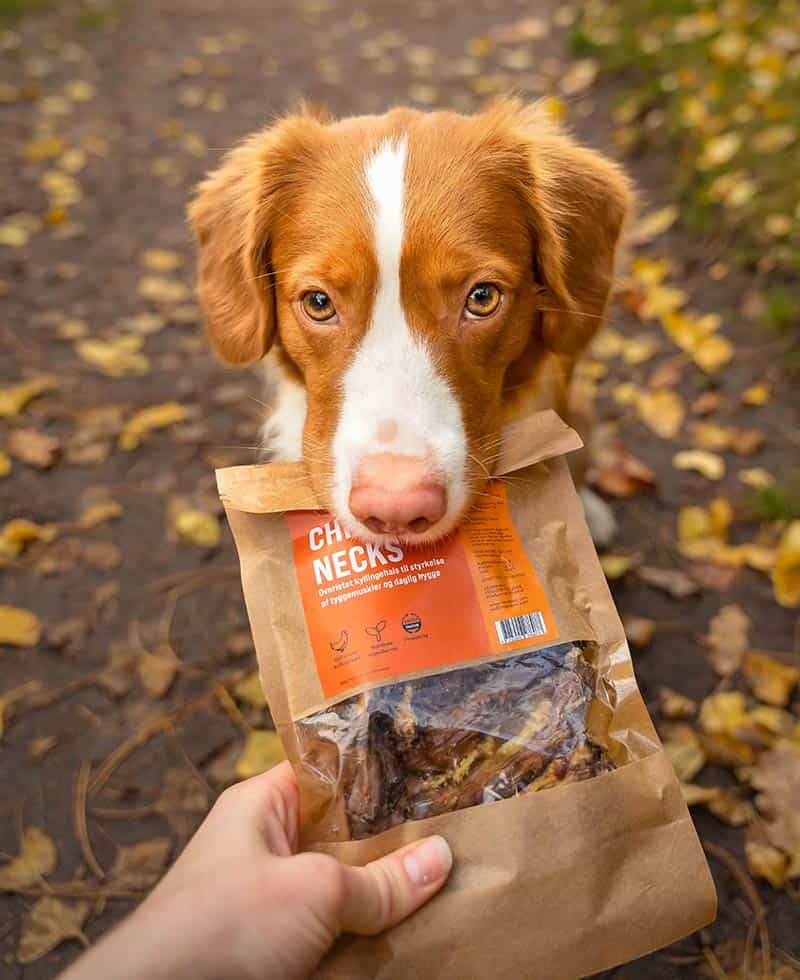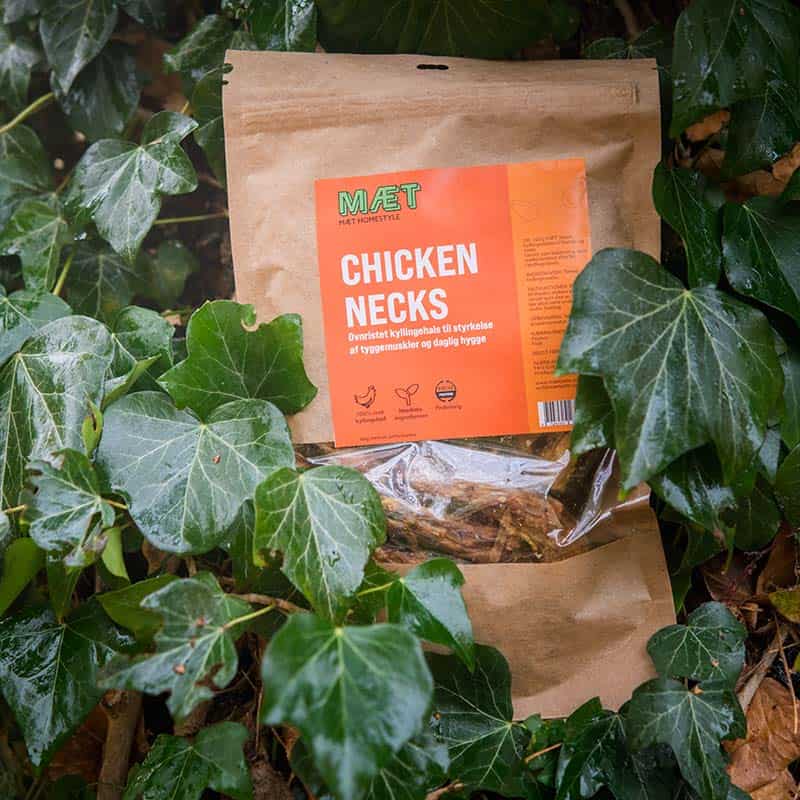 Healthy treats for dogs
If you are looking for healthy treats for dogs, our dried chicken necks are a good choice. Snacks / treats from MÆT are 100% natural without preservatives or additives, so you can pamper your four-legged friend with a clear conscience.
Protein is one of the most important building blocks for the dog's body, and chicken neck contains over 50% protein – completely natural. In addition, chicken neck has a naturally high content of chondroitin and glucosamine, and this dog snack is therefore good for the dog's joints.
Dogs love treats, and we love our dogs, so why not make sure they put their teeth into something that is both good inside and out? With our healthy treats for dogs, you can reward your four-legged friend with a nutritious, natural snack.
Grain-free dog treats
MÆT Chicken Neck are grain-free dog treats that are suitable for dogs with allergies or sensitive stomachs. You will not find either grain or gluten in our treats / snacks – the only ingredient is dried chicken neck, also called chicken neck.
Since many dogs can not tolerate grains, you can feel safe as an owner when you feed with 100% natural and grain-free dog treats. With just one ingredient, you can be sure that there is nothing hiding that your dog can not tolerate. Natural treats / snacks are also easier for the dog to digest.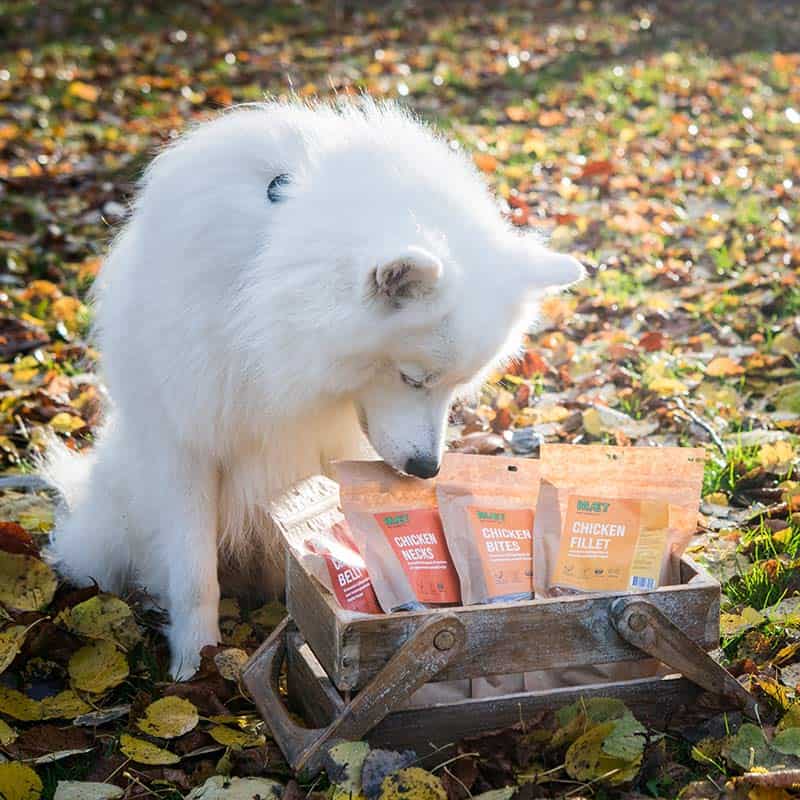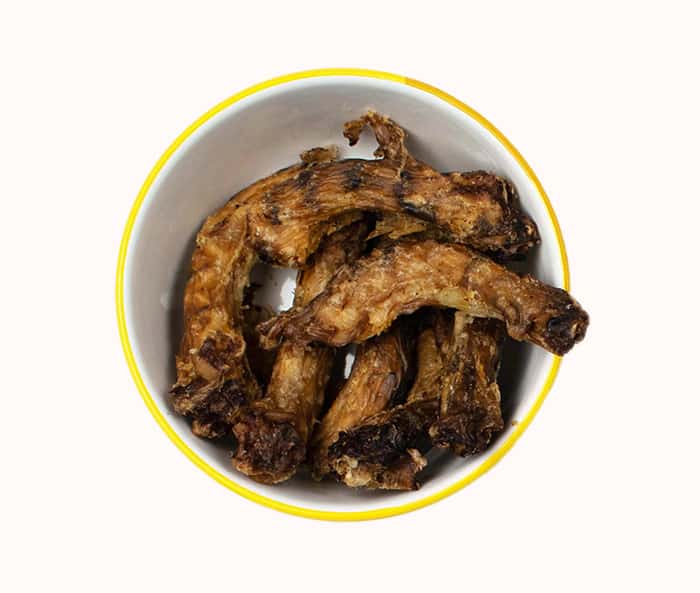 Why give chicken necks to dogs?
Because of their crispy texture, dogs love to eat chicken necks. At the same time, oven-roasted necks are particularly good for dogs' oral health due to their crunchy chewing properties.
Chicken tails are a rich source of fat, protein and are also high in calcium. They are an excellent source of glucosamine and chondroitin and also improve the dog's joint health. Calcium is important for bones. Protein helps with muscle development and tissue repair.
Taurine, which is an aminoethanesulfonic acid, is also present in chicken throat, which helps with heart and eye health and also supports the immune system.
MÆT Homestyle snacks
Chicken Neck is part of the MÆT "Homestyle" series , which consists of natural, oven-baked dog snacks. Each snack variant contains only one ingredient: Delicious, Nordic chicken.
There is no need for additives or anything artificial, as the high quality of the chicken meat gives lots of natural taste and aroma. All we have done is dry it in the oven so that each snack becomes nicely crispy. The treats are packed in a resealable bag, which is easy to take with you on a walk or for dog training.
✅ 100% natural, dried chicken
✅ High quality Nordic ingredients
✅ Grain-free and gluten-free
✅ No additives or preservatives
Product information
INGREDIENTS: Dried chicken neck.
NUTRITIONAL CONTENT:
Protein 52.8%
Fat 28.6%
NET CONTENT: 105g
INSTRUCTIONS: Reduce to smaller pieces or serve as is. The dog should always be supervised during feeding and have access to water.
STORAGE: Dry at room temperature.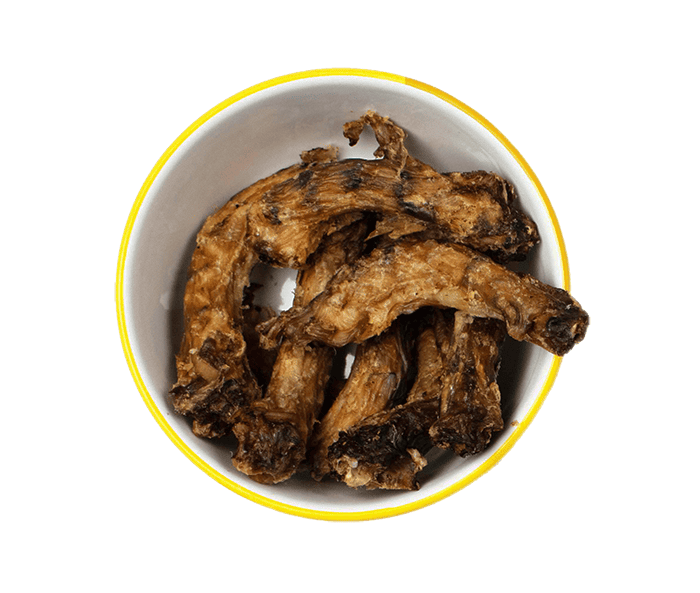 Questions and answers about MÆT Chicken Neck