Chicken Fillet
MÆT Chicken Fillet are 100% natural, low-fat snacks made from dried chicken fillet. They are especially good as training treats for dogs and are easy to break into smaller pieces.
The crunchy snacks can also be used as a tasty snack, a healthy reward or for smaller dogs' dental health. Chicken is a classic treat that will make the teeth of dogs of all sizes water.
100% natural, Nordic quality talk
Nothing artificial, just pure chicken
Low fat and high protein
Gluten-free, grain-free dog treats
Great training treats for dogs
49,00 kr.
In stock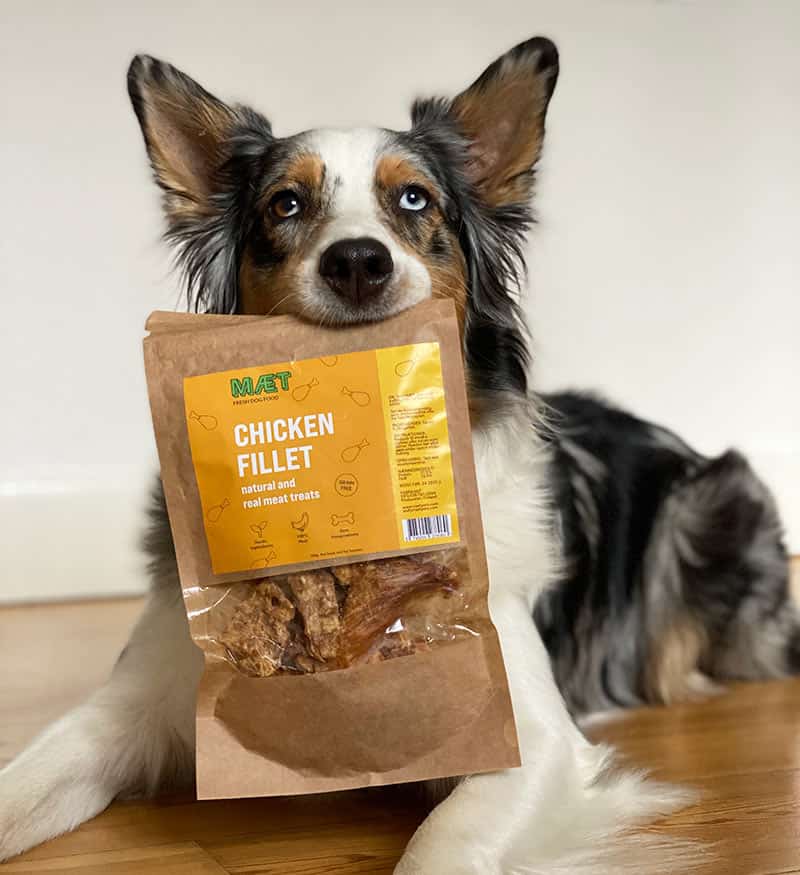 Delicious and low-fat training treats for dogs
MÆT Chicken Fillet is a popular training treat for dogs, and for good reason. Whether your dog needs to learn basic commands or advanced tricks, these snacks will be effective for your training.
The chicken fillet has a delicious taste and smell that pooches love, which makes them more motivated when learning new things. The pieces are easy to break into smaller chunks, so they can be used for dogs of all sizes.
Chicken Fillet snacks are low in fat, so they fit into a healthy lifestyle. Chicken is healthy and nutritious for your dog, and the low fat content makes this snack suitable for dogs who need to watch their weight or who are restricted from consuming too much fat for other reasons.
Treat your four-legged friend with gluten-free dog treats
There should also be room for fun and pampering for your dog, and MÆT Chicken Fillet is the perfect choice. Your dog will love the delicious pieces of dried chicken fillet, which are also completely gluten-free.
At MÆT, it's important to us to make gluten-free dog treats so you can reward your four-legged friend without worrying.
If your dog has a gluten allergy or a sensitive stomach, you can easily feed MÆT Chicken Fillet snacks. They contain no gluten, grains, preservatives, additives, colorants or flavors.
They're clean and natural snacks all the way through that dogs can safely sink their teeth into.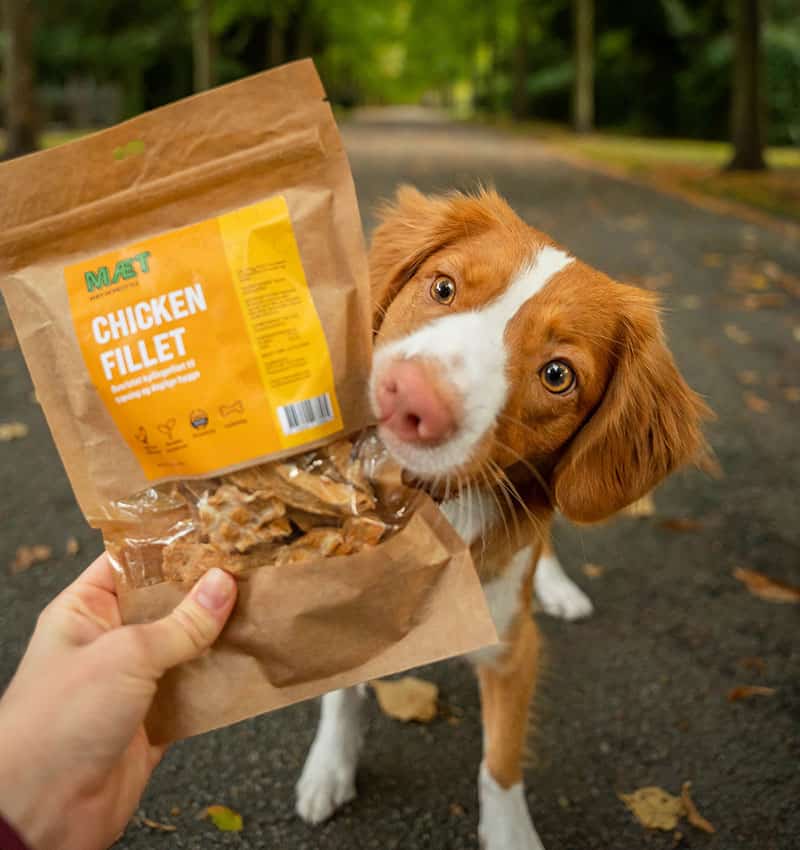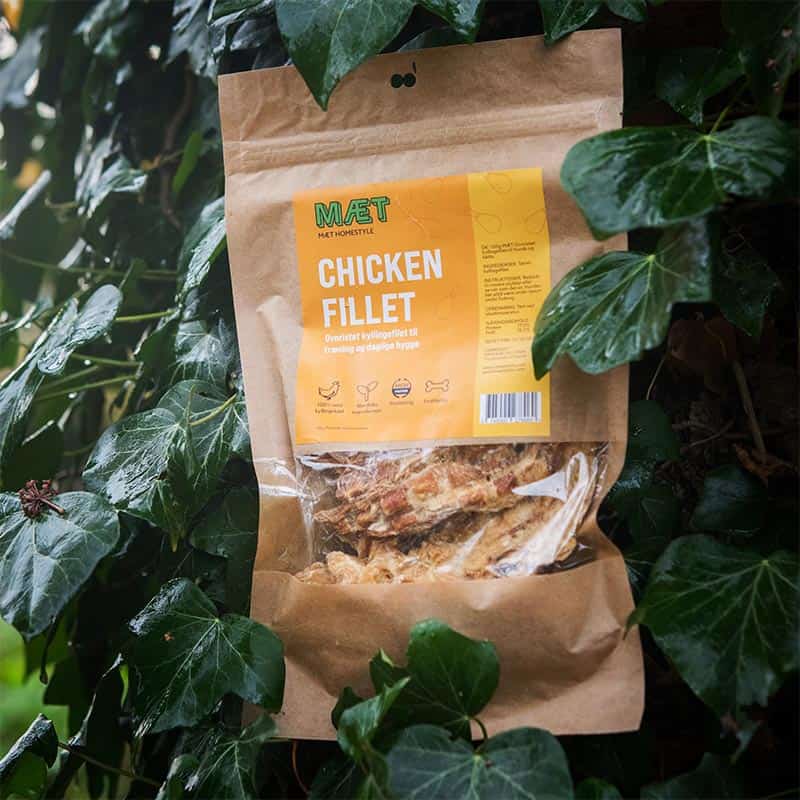 Tasty and crunchy grain-free dog treats
MÆT Chicken Fillet are grain-free dog treats, so they can be enjoyed by all dogs. Is your dog intolerant to grains? It's not alone. Just like humans, many dogs suffer from grain allergies. But that doesn't mean pooches should be deprived of a delicious snack.
When your dog has allergies, it's a good idea to choose single-ingredient snacks/treats. This way you can ensure that it doesn't get anything it can't tolerate. MÆT Chicken Fillet contains chicken meat and nothing else, so you can rest assured when giving them to your dog.
The natural snacks are easy to digest, making them suitable for dogs with sensitive stomachs.
MÆT Homestyle snacks
Chicken Fillet is part of the MÆT "Homestyle" range of natural, oven-baked dog snacks. Each snack variant contains only one ingredient: Delicious, Nordic chicken.
There is no need for additives or anything artificial, as the high quality of the chicken meat gives lots of natural taste and aroma. All we have done is dry it in the oven so that each snack becomes nicely crispy. The treats are packed in a resealable bag, which is easy to take with you on a walk or for dog training.
✅ 100% natural, dried chicken
✅ High quality Nordic ingredients
✅ Grain-free and gluten-free
✅ No additives or preservatives
Udsolgt
Product information
INGREDIENTS : Dried chicken fillet.
NUTRITIONAL CONTENT:
Protein 77.5
Fat 10.5
NET CONTENT : 90g
INSTRUCTIONS: Reduce to smaller pieces or serve as is. The dog should always be supervised during feeding and have access to water.
STORAGE: Dry at room temperature.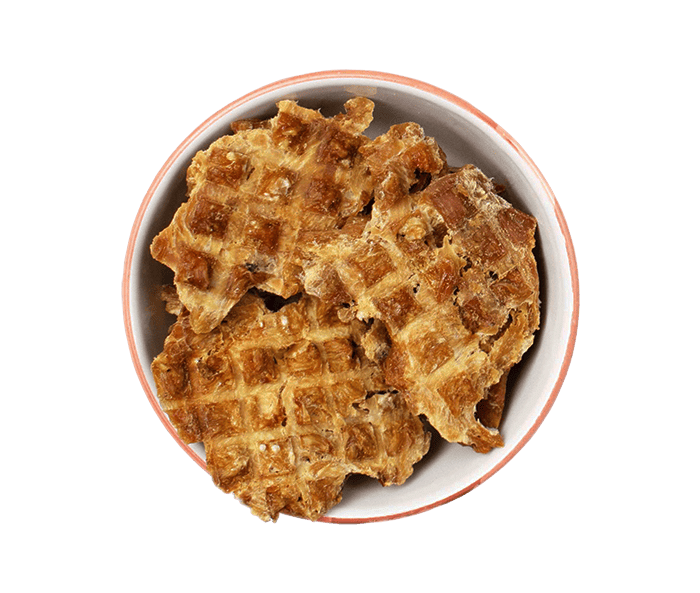 Questions and answers about MÆT Chicken Fillet