Toppl
Toppl er et fantastisk aktiverende hundelegetøj. Toppl egner sig godt til kraftig tyggende hunde og kan fyldes med bl.a. MÆT frisk hundemad eller vores naturlige godbidder.
Aktiverende spisning
Toppl tipper og vælter, når din hund prøver at få maden ud. Den kan holde din hund underholdt og mentalt stimuleret. Toppl er designet til hunde i alle faser af livet.
Aktivitetshundelegetøj til MÆT frisk hundemad og snacks
Lavet af genanvendeligt materiale uden latex og phthalater
Designet til interaktiv overvåget leg og hunde i alle størrelser
Tåler opvaskemaskine
West Paw Toppl Treat Toy fås i Blå og Grøn farve i følgende to størrelser
Toppl Small måler 7,5 cm – til hvalpe, små og mellemstore hunde
Toppl Large måler 10 cm – til store hunde over ca. 20 kg
Small og Large kan kombineres til ekstra udfordrende leg.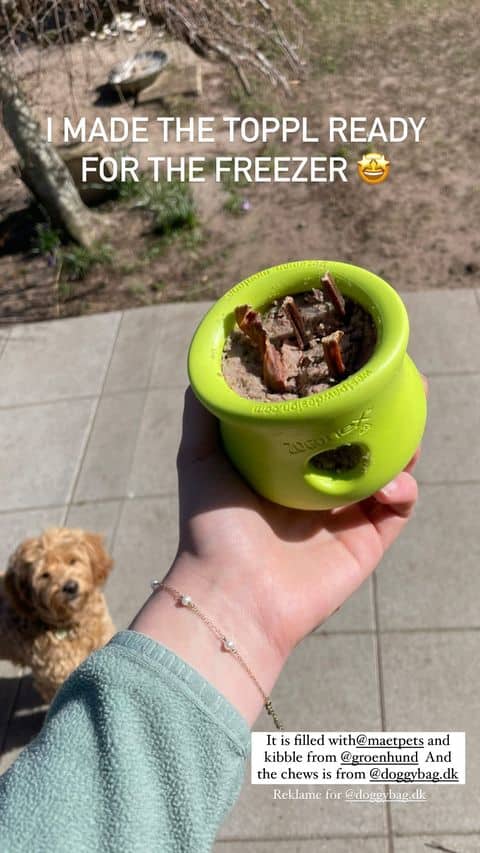 Toppl Hundelegetøj til aktivering
Toppl West Paw er fremstillet i ekstra stærkt gummi, og egner sig specielt godt til kraftig tyggende hunde.
Det er et 100 % genanvendeligt produkt, der er produceret i USA.
Emballagen som Toppl er pakket i, er ligeledes genbrugsmateriale.
Toppe er lavet af Zogoflex, der er et ultraholdbart materiale, som er specielt lavet til at modstå kraftige bid. Zogoflex indeholder ingen giftige stoffer.
Toppl hundelegetøj fyld
En Toppl er endnu mere fristende, når den er fyldt med MÆT Deli og snacks. Tåler opvaskemaskine for nem rengøring.
Du kan også købe en af hver størrelse og sætte dem sammen, til et helt nyt aktivitetslegetøj.
Bonus: For en ekstra udfordring kan du fryse den ned indtil maden er semi-hård, så udfordrer du din hund på alle sanser og kundskaber.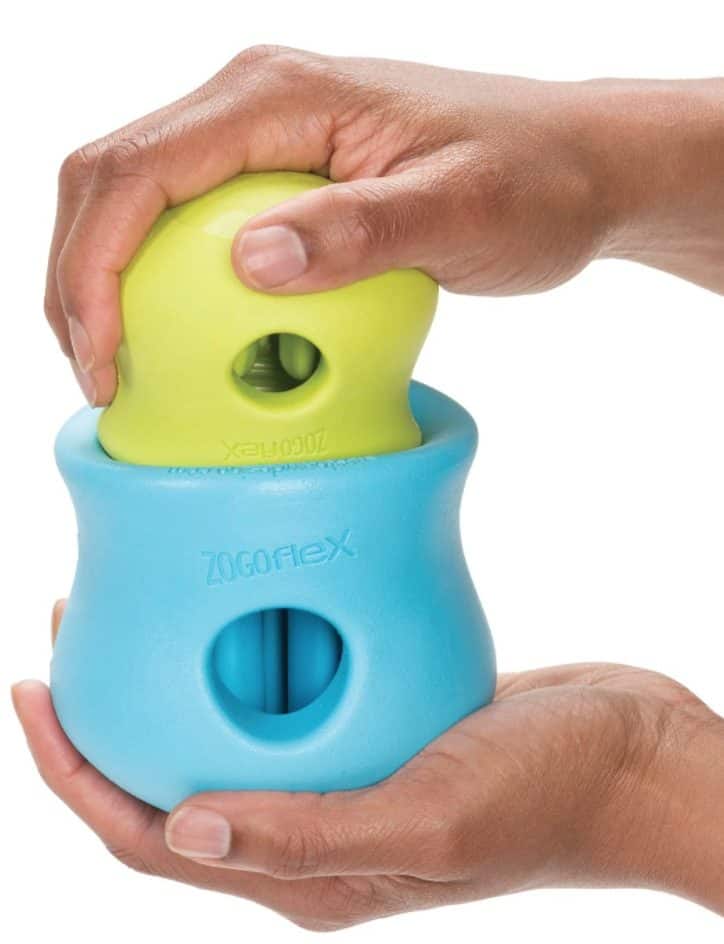 Aktivering inspiration
1 Kombiner en lille og stor Toppl
Stak lille Toppl oven på en fyldt stor Toppl.
2 Pres sammen
Skub én gang, og kombiner de to Toppl til et ultrasjovt godbidspuslespil.
3 Vrid
For mere af en udfordring, drej Toppl og lås den.
4 Vær kreativ
Følg os på instagram og se hvordan vores kunder aktiverer netop deres hund.
Du vil måske også kunne li'...