Chicken Belly – Chicken gizzards
100% natural, healthy dog snacks made from dried chicken gizzards, which are a powerful muscle stomach in birds. Gizzard has an intense flavor and smell that your dog will love, but is mild to the human nose.
MÆT Chicken Belly can be used as a healthy reward, a delicious snack or for better dental hygiene.
100% natural, Nordic quality talk
Nothing artificial, just pure chicken
Low fat and high in protein
Effective training treats, especially for track / search
49,00 kr.
In stock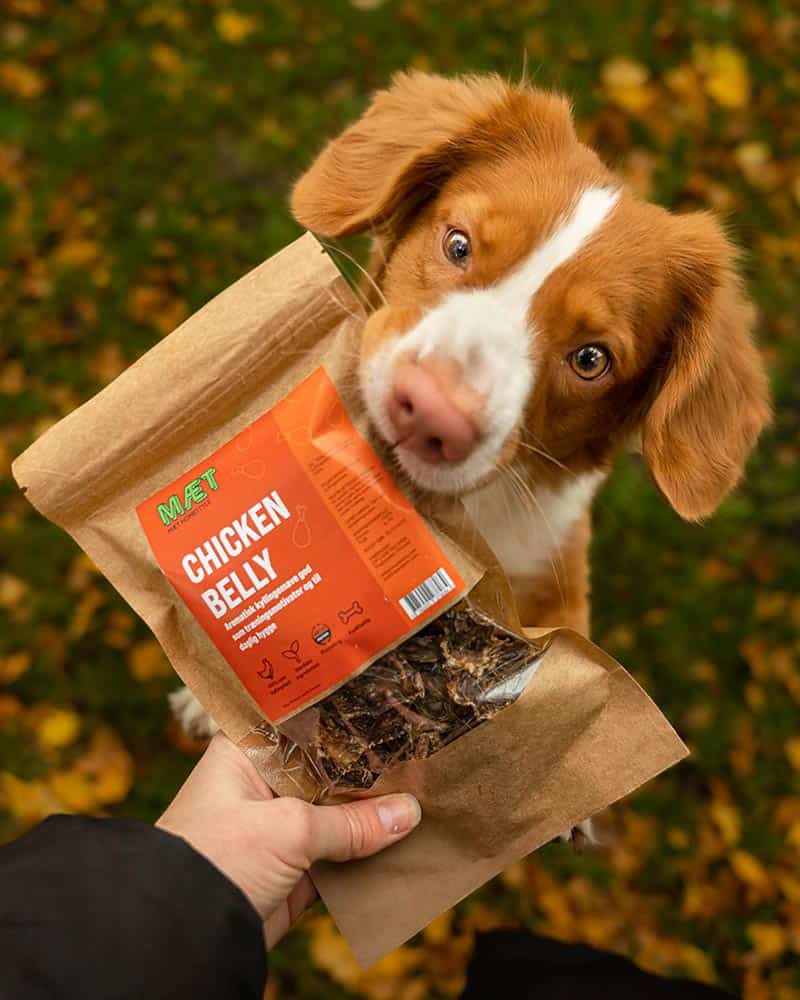 Healthy treats – reward your dog with a clear conscience
With our healthy and low-fat treats, you can reward your dog with a clear conscience. MÆT Chicken Belly is a nutritious protein source with a very low fat content – in fact, they are our most low-fat snacks (only 6.3%) – and dogs of all sizes will enjoy these healthy treats.
Chicken is a great way to give your dog protein, and chicken belly is one of the most protein-rich parts of chicken. That's why MÆT Chicken Belly is also one of our snacks that has the highest protein content (79%) – and it is in a completely natural way.
Chicken stomach is also rich in natural vitamins and minerals, i.a. Vitamin B12, iron and zinc.
Effective and aromatic training treats
If you are looking for training treats for your dog, MÆT Chicken Belly is an obvious choice, as these are our most aromatic snacks. When you want to motivate your four-legged friend to do something, the reward should taste and smell extra good.
The intense and delicious aroma in Chicken Belly is a fantastic source of motivation, especially for training in searching / tracking. The more aromatic a snack is, the more focused your dog will be when it comes to using its snout to find it.
For us humans, the dried chicken stomach does not smell of much, but dogs have a much better sense of smell and they LOVE the intense smell and taste. Save Chicken Belly training treats in the most challenging places – your dog's snout should probably track down to them!
Chicken Belly snacks are not greasy to the touch, so you can easily take them on the walk or to the workout.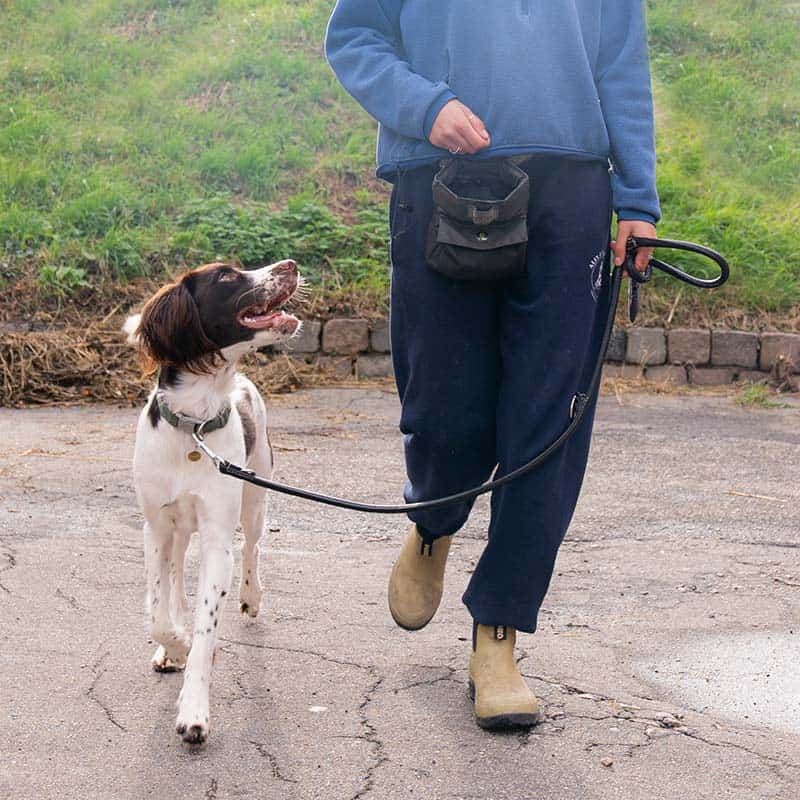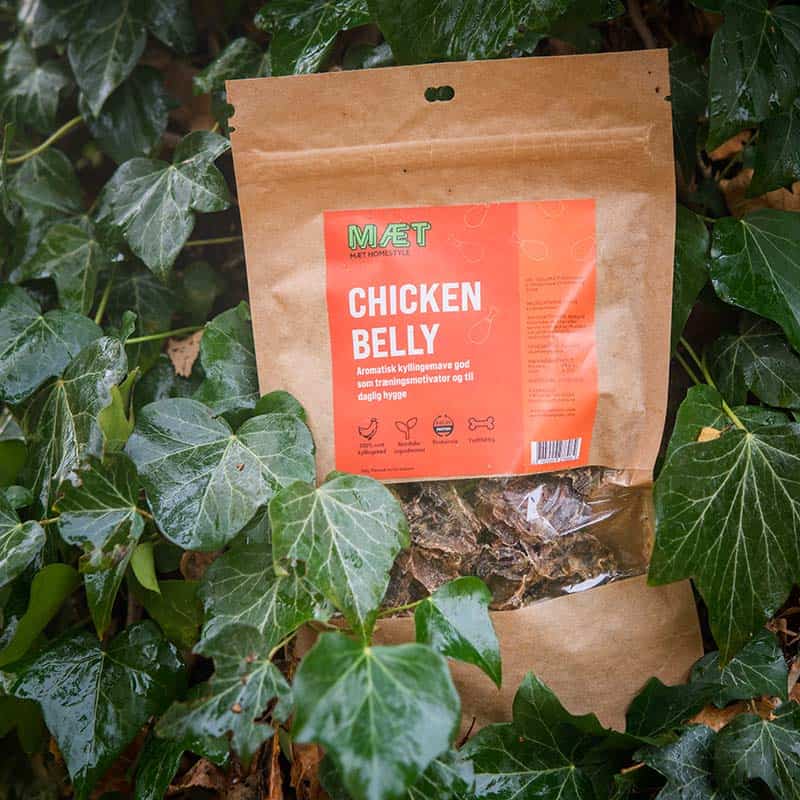 Grain-free treats for dogs that have allergies or delicate stomachs
With these grain-free treats for dogs, you can reward the doggie without worrying. Natural snacks are the safest choice when it comes to allergies.
MÆT Chicken Belly is both grain-free and gluten-free, as the only ingredient is pure chicken. They are therefore good as grain-free treats for dogs suffering from allergies – or for dogs whose owners want to prevent allergies.
In addition, Chicken Belly snacks are easy to digest, and then they help clean the dog's bits when it chews in the dried chicken meat.
Why chicken gizzards for dogs?
Chicken gizzards are a natural source of protein, vitamin B-12, iron and zinc for dogs that are low in calories and fat, making them a perfect dog snack. Chicken stomach can be used as a supplementary food for dogs and is made from freshly slaughtered chickens and heated to 100 degrees Celsius after being air-dried to minimise the possibility of bacteria.
They are free from additives and are 100% natural. Chicken stomach contains digestible amounts of carbohydrates, vitamins and minerals. As they are natural grain-free snacks, they are good for allergic and sensitive dogs.
Due to their crunchy texture, they also maintain dogs' dental health. Protein provides energy for dogs, and vitamin B-12 is essential for a healthy nervous system, brain function and also helps with the production of blood cells. Iron is necessary for the production of haemoglobin, which is essential for transporting oxygen to various body organs. Zinc helps with healthy skin, maintains thyroid function and also strengthens the dog's immune system.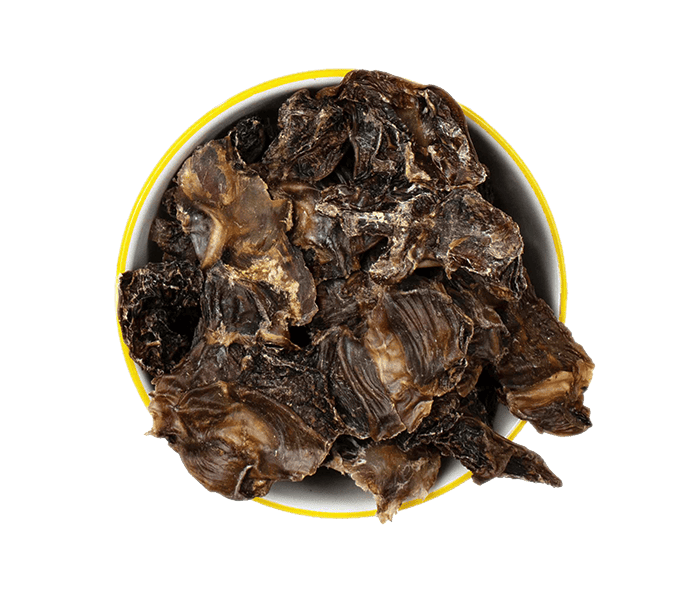 MÆT Homestyle snacks
Chicken Belly is part of the MÆT "Homestyle" series , which consists of natural, oven-baked dog snacks. Each snack variant contains only one ingredient: Delicious, Nordic chicken.
There is no need for additives or anything artificial, as the high quality of the chicken meat gives lots of natural taste and aroma. All we have done is dry it in the oven so that each snack becomes nicely crispy. The treats are packed in a resealable bag, which is easy to take with you on a walk or for dog training.
✅ 100% natural, dried chicken
✅ High quality Nordic ingredients
✅ Grain-free and gluten-free
✅ No additives or preservatives
Udsolgt
Product information
INGREDIENTS: Dried chicken stomach.
NUTRITIONAL CONTENT:
Protein 79%
Fat 6.3%
NET CONTENT: 100g
INSTRUCTIONS: Reduce to smaller pieces or serve as is. The dog should always be supervised during feeding and have access to water.
STORAGE: Dry at room temperature.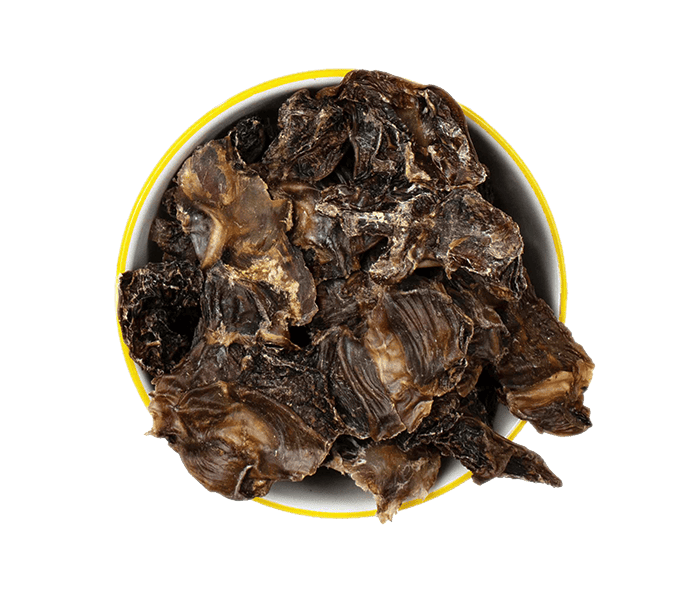 Questions and answers about MÆT Chicken Belly