Before dog food was invented, and before dogs were tamed by humans, they ate a healthy diet of fresh meat, bones, fruits and vegetables. Today, dogs are fed with commercial dog food that is very different from what they originally ate. Slowly over time, it has had a negative impact on the health of dogs around the world from the posh Poodles in Paris to the hard-working Border Collies in New Zealand.
A lot of dog food is not very natural
In addition to being far from what nature intended, a lot of dog food today is full of processed meats, grains, fillers and additives that are unhealthy for your dog. But what should your doggie eat then?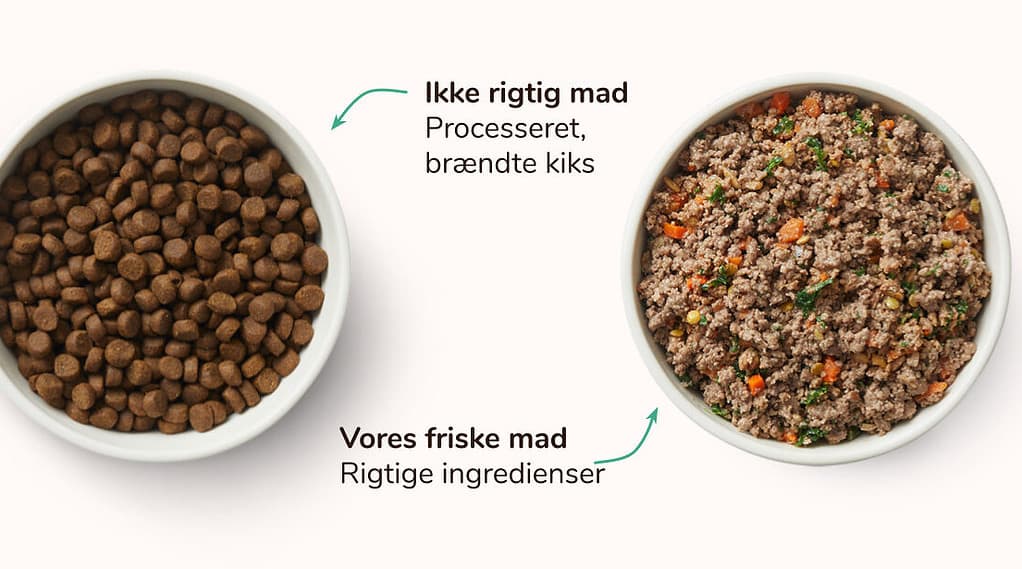 Considerations when choosing dog food
What ingredients should my dog food contain?
Your dog needs proteins, fats, carbohydrates, vitamins and minerals etc. to stay healthy and well. Always look at the declaration after what comes first. The most important source of protein should always be meat. This ensures that your dog gets the meat that a dog naturally needs, as meat must be the dog's primary source of nutrition for protein and fat. It builds and maintains its muscles and promotes the fur's natural shine and suppleness – as a plus, proper feeding can reduce shedding problems. Read more about what ingredients dog food should contain
Absorbency of dog food
Pay attention to the absorbency of the dog food. Absorbency varies depending on the type of feed. Dog food with good ingredients has a greater ability to be converted into energy in the dog. This gives you less waste and feces. So even though a dog food seems expensive in price, in the long run it may well be worth taking the more expensive brands, which typically have a significantly better uptake.
Grain-free dog food
Do you suspect that your dog may not tolerate grains very well? You may have noticed that the dog itches a lot and its skin seems irritated, or its fur seems dry and sad? At MÆT , we have developed recipes with grain-free dog food. Grain-free dog food has been shown to be extremely good for dogs showing signs of such problems. Grain-free dog food covers all your dog's nutritional needs and by feeding a dog food without grain, you feed your dog more naturally. The dog is by nature predominantly carnivorous and if your dog lived wild, its diet would mainly consist of meat, smaller amounts of berries, vegetables and fruits and more. Not all grains are bad. Read here why rice is good in dog food, whereas you should avoid wheat
Try fresh dog food
We believe that fresh food is the best for your dog, and is exactly what dogs need to eat to live a healthy life. This diet is similar to what dogs ate in the wild before being tamed. It is full of fresh goodness, filled with all the good things that dogs need and want.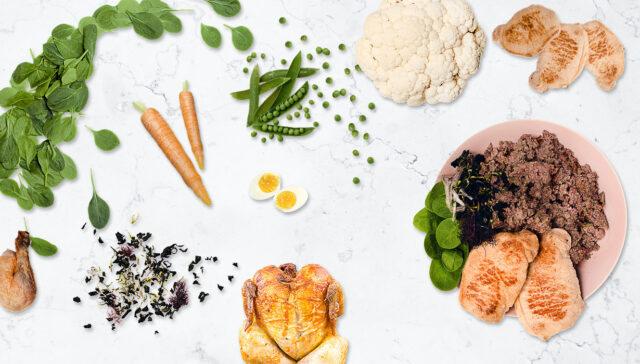 A switch to this fresh diet may improve your dog's overall health, improve energy levels, immunity and gut health, cure digestive problems, reduce allergies, and help your dog maintain an ideal weight. Dental hygiene can be improved because eating fresh food helps to clean the dog's teeth naturally with less buildup of tartar, and the health of the gums also improves. These are just some of the health benefits we've discovered as there really are so many … minor allergies, improved mood and behavior … the list goes on and on.
We believe that your dog, like you, deserves the very best. Our products are natural, healthy and not least delicious. Your dog will love the new menu. An example is chicken risotto , which contains chicken meat, organs, rice, carrot, eggs, peas, vitamins and minerals. Another popular product created specifically for a healthy diet is our s v i n e -deli. Each meal is a delicious treat that may send your dog on the road to better health and improved vitality and well-being.
I wanted to get completely away from dry food, and feed with 'real' food, but since I have limited time, it became the easier solution. Until now … now we have discovered MÆT , and from the first taste, Buddy was sold!

A few places where the difference is quite obvious are on his toilet visits, he clearly gets more fluid and he absorbs his food far better than with dry food. This is shown by a halving of his large toilet visits, and quite clearly on his weight and figure.

We are huge fans!

Anne, and her Staffordshire Bull Terrier, Buddy
Talk to other dog owners to hear their real experiences with switching to a fresh diet. First-hand experience is valuable and interesting. Fortunately, most dog owners report that they will not switch back as they see positive life changes in their dog once they have been given the fresh diet for a long time.
The benefits can be immediate and you can expect to witness a change in your dog right away. The benefits can be long lasting when you change the food out your dog eats. When you compare fresh food in relation to processed and unnatural dog food, then it is a no brainer. As we say – you do not eat junk food every day, so why should your dog?
You will feel much happier knowing that you are caring for your dog in the best possible way by giving it the right diet it needs to thrive, not just survive. Every responsible and loving dog owner wants a happy and healthy dog. Show how much you love your precious pooch by giving it the best food. After tasting the fresh dog food, we are sure that your dog will wag its tail at lunchtime.