Do you and your four-legged friend want to get lots of fresh air and exercise in a fun and cozy way? Then canicross can be something for you. In this article, we take a closer look at the popular running sport that is appearing in more and more places in Denmark.
What is Canicross?
In canicross you run with your dog in nature, but instead of having a dog leash in your hand, you have a running belt with an elastic line around the waist, which is fastened to your dog's harness. The dog runs in front and "pulls" you forward. Does that sound a bit like a sled dog? It's no coincidence.
Where does canicross come from?
Canicross originated in Europe as training for sled dogs in the warmer months, when dogs did not have to pull sleds. Today, the sport has spread to large parts of Europe and the UK. There are professional canicrossers who participate in competitions and championships, but the sport is also hugely popular with regular dog owners who use it as a fun leisure activity with their dog.
What does canicross mean?
The name canicross is a mixture / combination of the Latin word for dog, "canis", and the English word "cross", which refers to "cross country running" (cross-country running or cross-running in Danish) – a running discipline that takes place in terrain . So you and your dog get away from the asphalt and out on forest paths, grass, mud and the like.
Running with a dog – a good motivation
Canicross is good for both you and your dog. It's healthy, it's fun, it's teamwork. Canicross only works if both parties work together, and it is therefore a very special "bonding" experience that can make your bond even stronger. It all gets a little more fun when you are two, and your dog is therefore a great motivation to chalk up the running shoes. It's easy to drop the morning workout to sleep an hour longer, or opt for the couch instead of the gym after work – but try saying no to two big dog eyes looking at you and anxiously awaiting their run!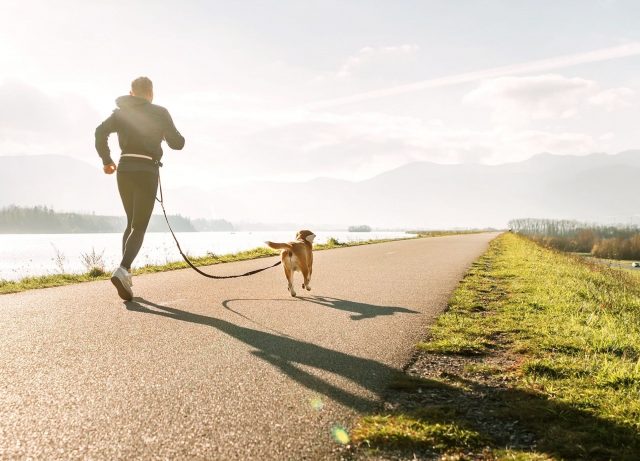 Can all dog breeds grow Canicross?
Most dogs will be able to grow canicross as long as they are healthy and fit, have normal build (ie normal snout, leg position and back) and like to run. Of course, the sport is better suited to some races than others.
When you think about the origins of canicross, it goes without saying that sled dog breeds are hugely suitable. Large pointers / chicken dogs and other large hunting dogs also have a special talent for the sport.
These dog breeds are well suited for running in general:
Labrador
Springer Spaniel
Border Collie
Border Terrier
Siberian Husky
Irish Setter
Whippet
Weimaraner
Rough-haired Chicken Dog
Rhodesian Ridgeback
Do not despair if your dog has not been mentioned here. We could easily make the list even longer, and some breeds can also surprise positively, even though they have never been on a "best running dogs" list. Whether it is a purebred dog or a mixed breed dog does not have to be decisive either.
However, there are exceptions. Brachycephalus dog breeds are not suitable for canicross or other races as their short or completely flat snouts make it difficult for them to breathe. This includes the breeds Bulldog, Pug, Boston Terrier, Boxer, Pekingese and Mastiff. Also pay attention to really small dog breeds (eg Chihuahua) and really large breeds (eg Grand Dane), as they are only suitable for shorter runs – no long distances.
We need to take good care of our four-legged friends. Therefore, do not start running with your dog until you have received an OK from the vet. At a consultation, the vet will be able to assess whether your dog and canicross is a good match – and if so, how far it can tolerate running.
How old does my dog have to be to grow canicross? 


Dogs are not allowed to run canicross until they are between 1 and 2 years old. This is because the puppies' joints and bones must be fully developed first. The exact age depends on the breed – the bigger it is, the longer it will take.
Some older dogs can run canicross, but they must be healthy and well, and the trips must not be too long. Of course, they will also run slower than their younger counterparts. 


Always check with your veterinarian before starting to run with a young or older dog. Then you are sure that everything is in order.
Will Canicross get my dog to pull the leash on walks?
In canicross, the whole point is that the dog must pull on the "leash" (the elastic line). But on ordinary walks, the owner of course wants to avoid the same behavior. However, you do not have to worry, because the vast majority of dogs understand the difference. As long as you make sure to use one harness and leash for canicross and another harness and leash for the regular walks, the dog will understand that the two activities are separate.
Canicross equipment
It is important to use a special canicross harness so that the dog pulls correctly with his body and does not get injured. Never run with a leash or leash on the dog's collar as it may impede its breathing. A good harness gives the dog free movement during the run. We can recommend Freemotion Harness.
You will also need a treadmill, and here we recommend the CaniX Belt. You have the belt around your waist, so your back is protected against drafts from the dog. At the same time, you have your hands free, and the pull is evenly distributed, unlike if you had to hold a dog leash during the run.
In canicross, you and your dog run as a team, and to connect you need an elastic line that you attach to your treadmill and to the dog's harness. For races with dogs, most people use a line of 2 meters. The linen should be shock-absorbing for both of you and should reduce drafts.
Once you have acquired the right canicross equipment, you and your four-legged friend are ready to head out into the great outdoors. Also remember some good running shoes (for yourself) that can hold up to a little of each.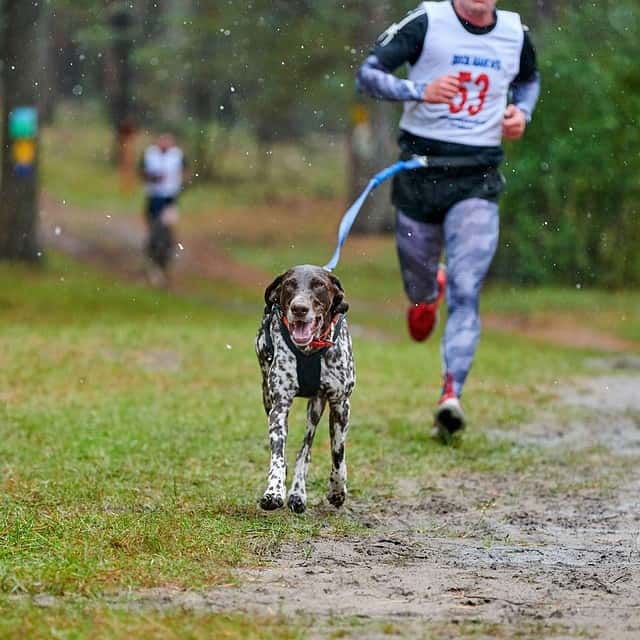 How to get started with canicross
Step 1: Practice Obedience and Commands
To grow canicross, you need an obedient dog that is used to walking nicely on a leash. Your dog should not be easy to distract, as you will otherwise be pulled in all directions on the run if you pass other dogs and people or e.g. meets a mouse in the woods.
In canicross, it is the dog that runs in front, but it is your job as owner to direct it. You do this with commands, and here especially "start", "stop", "right" and "left" are good to teach the dog. You can start by training these commands on your normal walks, or you can jump straight into it on a run. When the dog does what you want (eg turns right), repeat the command ("right") and praise the dog.
Remember never to scold the dog – it does not learn it faster. Also, avoid giving treats as a reward, as the goal is for the dog to look forward during the run and not turn around to look at you. Training requires patience, but it's all worth it when you end up working as a team.
Step 2: Start slowly
As with all other forms of exercise, it is important to start slowly so that you avoid injuries. You can not run 5 kilometers on the first trips. Start with some short runs and increase the distance gradually. Find a running program for beginners and follow it with the dog – a completely ordinary running program can easily be used, it does not have to be specific to canicross or dogs.
Bring water on the trip that you and the dog can drink along the way, and do not run in too high temperatures (above 18 degrees). Also remember to start and end each run by walking so that the legs (both the four-legged and the two-legged) are warmed up and down well again. It also allows your dog to groom. After the run, it is a good idea to massage or stretch – yes, also for the doggie.
Step 3: Find a Canicross running club
If it all feels a little overwhelming at first, you can join a canicross running club, where there is plenty of good advice to pick up from more experienced runners, both in terms of equipment and training. All in all, it's a good idea to be part of a running club, as most dogs love to run in packs, and at the same time you get a good community with other dog owners.
Under the name "HPM Dirty Paws" there are a lot of local running clubs throughout Denmark – from Zealand and Funen to Jutland and Bornholm. Everyone is welcome, whether you are a beginner or experienced and have a large or small dog. You can read more about the free running clubs in their joint Facebook group that acts as a virtual clubhouse.
For example, if you can not get your dog to run in front of you or pull you forward, a running club can be a great help. By running with other owners and dogs, your four-legged friend can see what they are doing and thus learn from them. If running clubs are not an option, you can ask a friend or family member to take the first runs so they can walk in front of the dog and encourage it to run forward. Remember that the person should praise the dog when it runs.
Bonus step 4: Finish with a good meal
When you and the doggie come home from the run, you will be completely exhausted, but in the best way. Then it's time for a delicious, nutritious meal. We can not help with human food, but we have some good offers for dog food. We offer i.a. a starter box so you can try if MÆT dog food is something for your dog.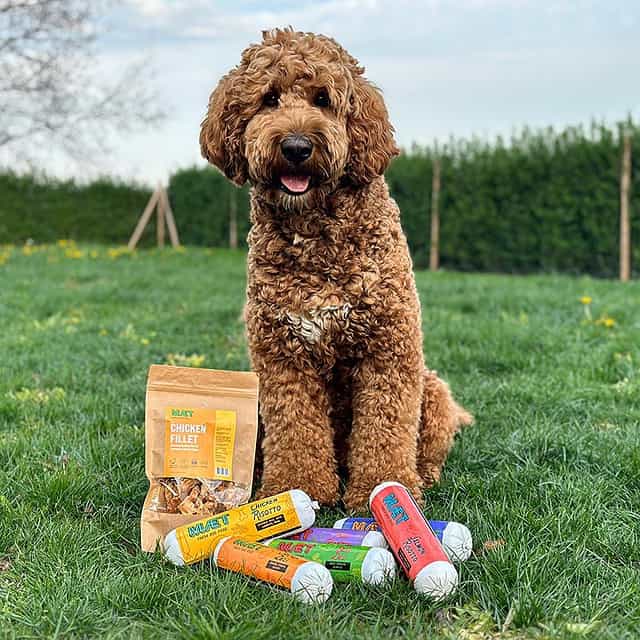 MÆT Sample Pack
In our trial pack, your dog can taste all 6 delicious flavors of fresh dog food and a natural snack. Order MÆT fresh dog food online and have it delivered right to your door.
Made with real meat and healthy vegetables

Nordic ingredients with delicious taste and scent

Complete food: Contains all the nutrients your dog needs

Single purchase without subscription
The sample pack contains
6 rolls of fresh dog food (500g) and 1 natural snack. Read what the rolls contain here.
If you live on Zealand, check out our article on 3 selected dog forests on Zealand for your run . We also have an article on how to get a healthy dog and exercise on the walk .