MÆT Dog Meal Box
If our dogs could choose their food, they would choose something with lots of flavor and smell.
MÆT 's fresh dog food gives your dog a fantastic taste and smell experience, so that even the discerning dogs feel like eating. As soon as the package comes in the door, your dog will be able to smell the delicious ingredients in the fresh dog food from MÆT .
Try a dog meal box with 4 sausages + 1 snack bag for 149, – without binding.
Next, you and doggo will receive a delivery when it suits you.
Try MÆT
FRESH DOG FOOD IS THE BEST
Nordic raw materials
Fresh meat and vegetables
Filled with vitamins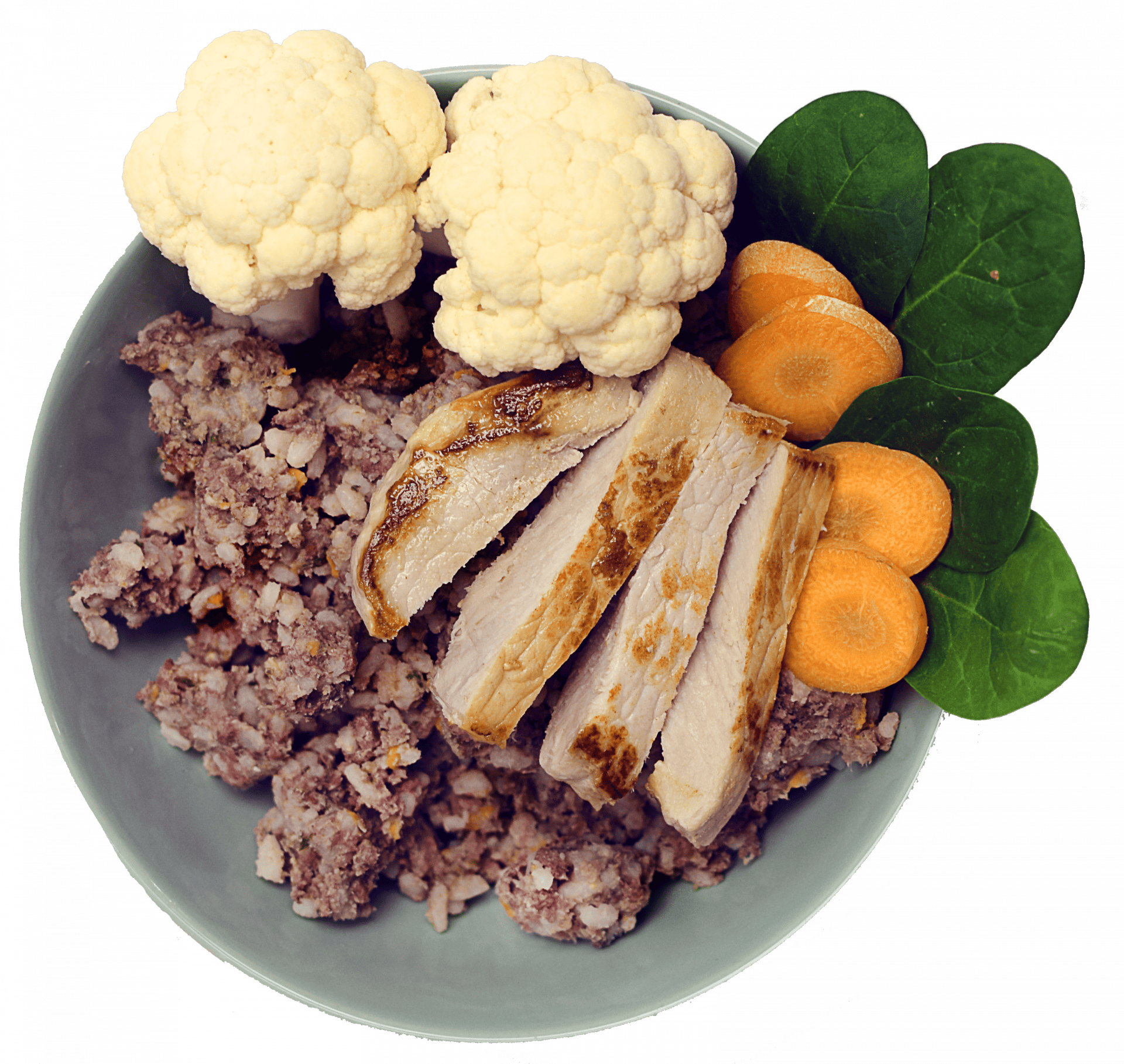 Single protein
High digestibility
No preservatives
Our fresh dog food
MÆT 's fresh dog food is made from carefully selected ingredients, which we combine to be able to offer your dog a complete meal with the healthiest nutrients, delicious taste and good energy.
Order a sample package and test our fresh dog food at home.
A satisfied (MÆT) dog is a happy dog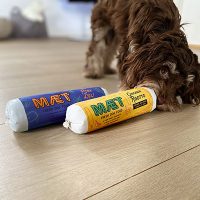 "Thank you for your fantastic products! Louis has never had the big appetite and generally never eats very much. I then bought a roll MÆT to see if it could help on anything and it did!
Am very impressed. Louis has NEVER eaten all 3 meals but he does it every time I mix MÆT the products in the food. We will definitely try more of their products and would definitely recommend it to anyone❤️ "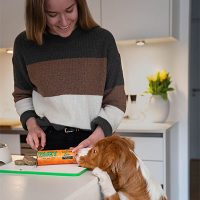 "We are so pleased with the quality of the food. You can really smell that the food is fresh and of good ingredients, where you can still see some of the ingredients in the food such as chicken, pork, carrots and rice.
Freja undoubtedly MÆT , she can hardly keep calm when we start cooking. This is really dog food we recommend 🙂 "
"Hold up it's delicious for him! 🤩 I have rarely seen him so much up driving. Could hardly be allowed to cut the food out without him standing and grumbling to get something… he could smell that something good was on the way 😍😅
We're a fan! We look forward to testing it on licking mats and in king. Here, all too often, we have just used liver pate 😬 So the conscience is somewhat better when we can put such quality feed in 🧡 "
Which MÆT dog food should I choose?
Risotto - Dog food with healthy carbohydrates
In the risotto recipe, we mix delicious meat with healthy vegetables and rice, so that your dog gets a balanced and natural meal.
The risotto meals with chicken and pork contain 59% meat and the high-fiber rice keeps the stomach in balance if your dog tends to have an upset stomach.
The Risotto recipe in particular provides lots of energy and is especially good for delicate stomachs, dogs with allergies and / or picky dogs.
Order MÆT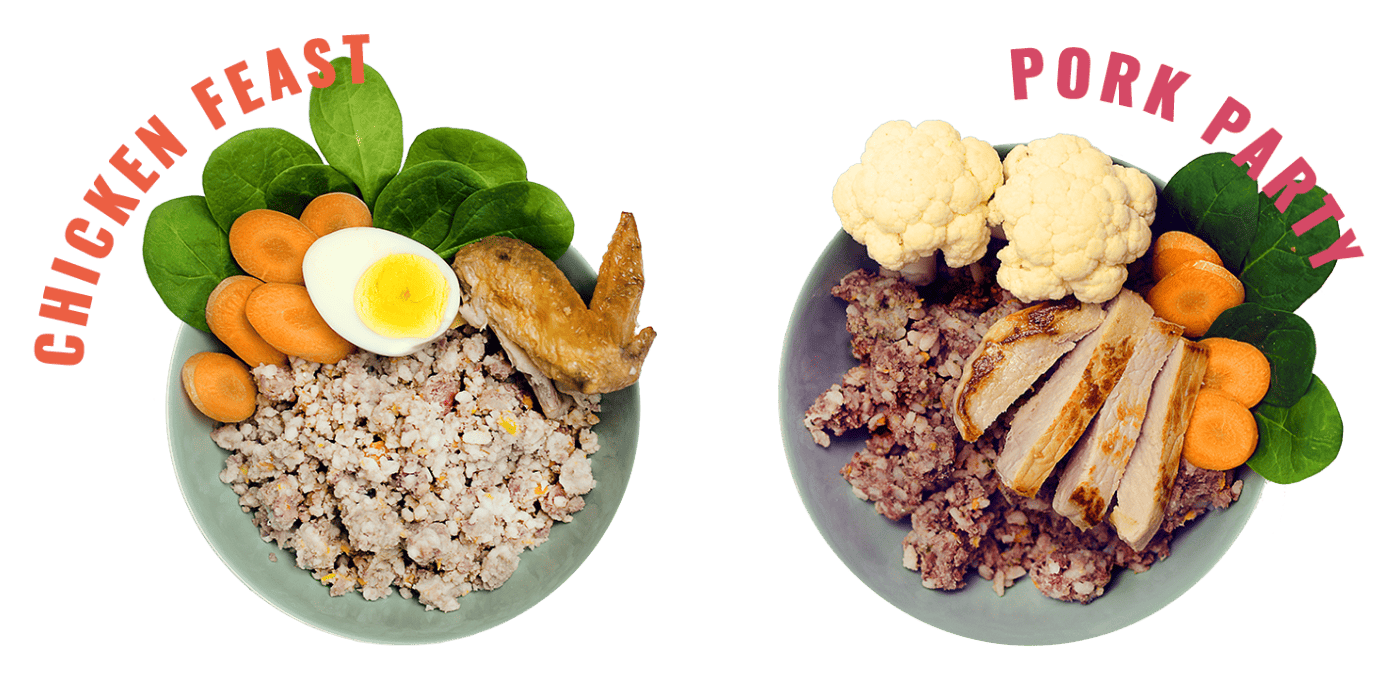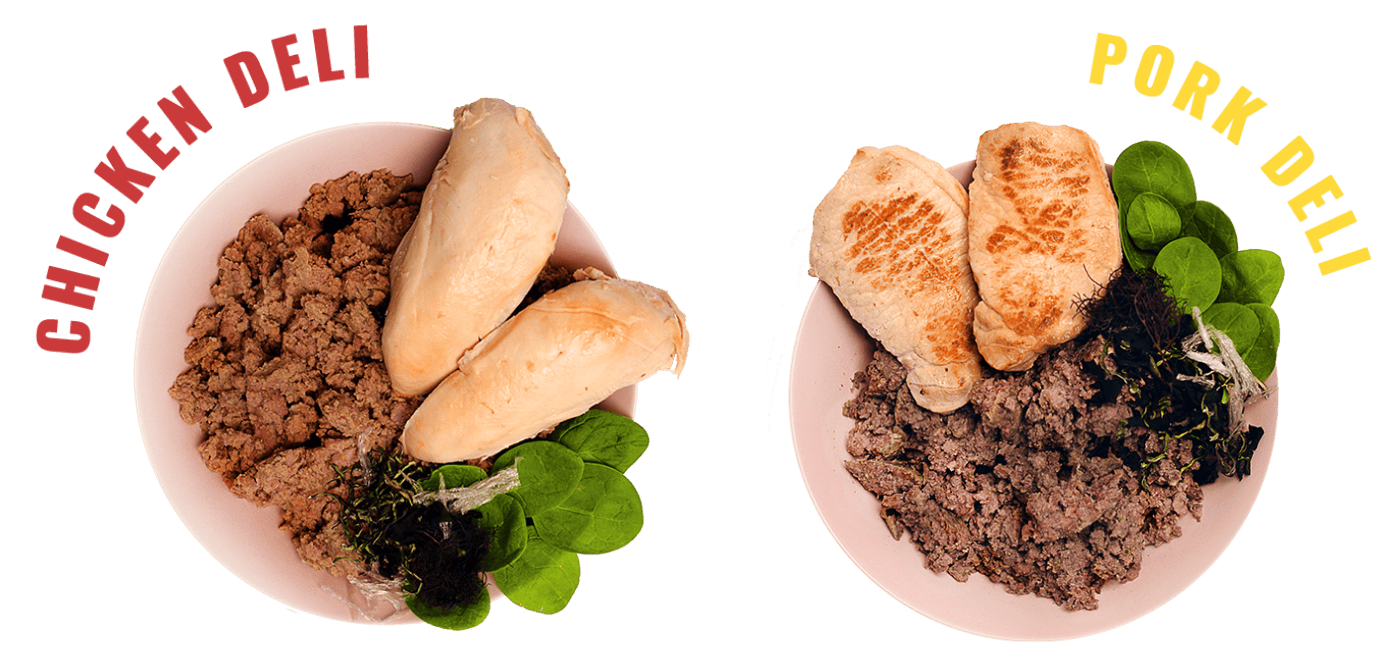 Deli - A premium meal with lots of meat
Our Deli recipes with chicken and pork contain 80% meat and vitamin-rich spinach and seaweed to ensure a balanced diet.
Deli is our grain-free dog food that is especially good for dogs that need to take care of their weight, as it has a low fat percentage.
If you are looking for gluten-free dog food without grains and with a lot of meat in it, then our Deli products are the perfect choice for your dog.
Order MÆT
A taste explosion without equal
GLUTEN FREE,
NO PRESERVATIVES
OR DYES
Your dog needs a complete diet
Dogs also need healthy and varied food. A complete meal, which consists of the ultimate combination of selected ingredients. That's exactly what MÆT 's fresh dog food is.
Our recipes are gluten free and have no preservatives or dyes.
MÆT are clean meals made from healthy ingredients so your dog gets what he needs.
Order MÆT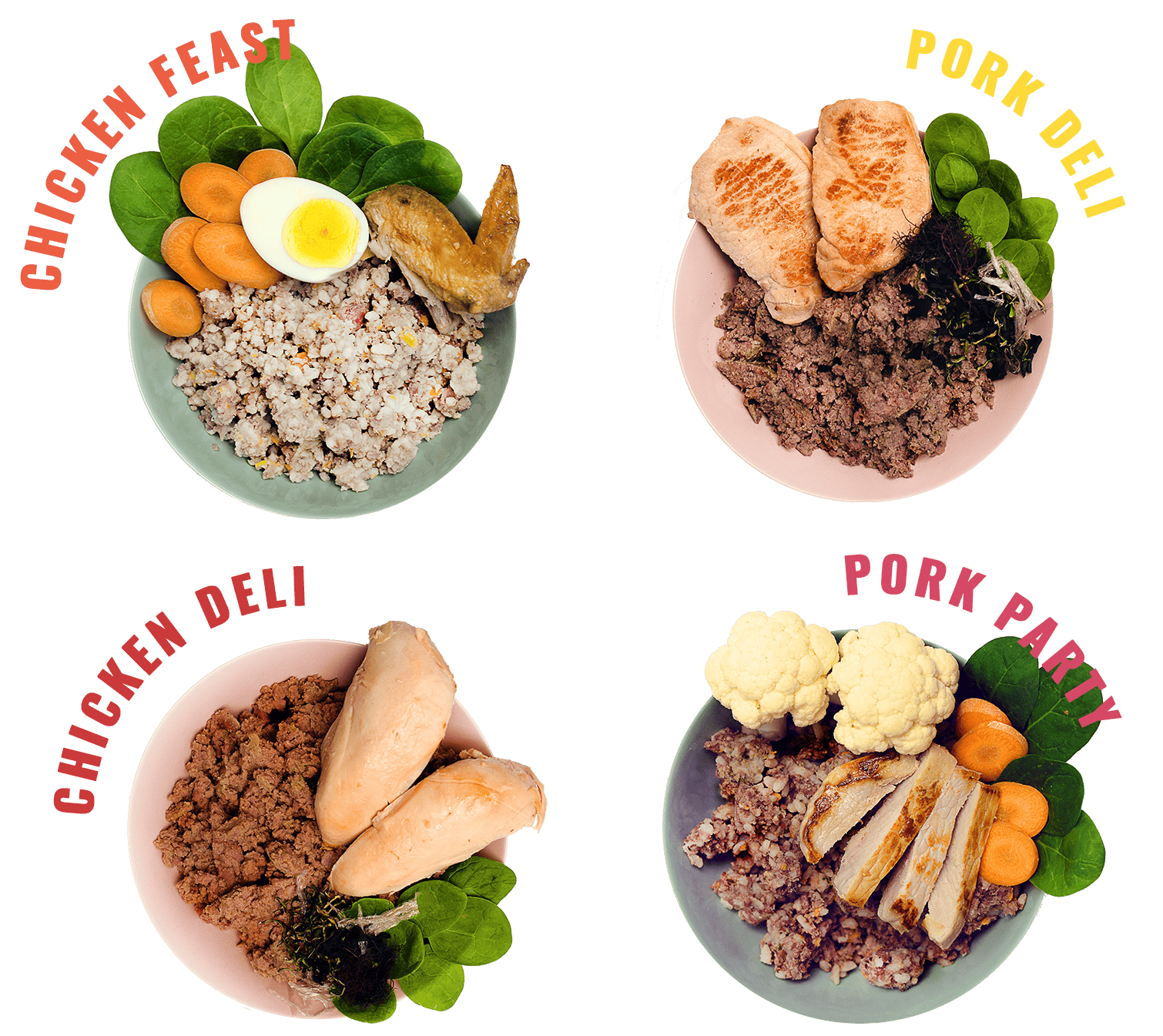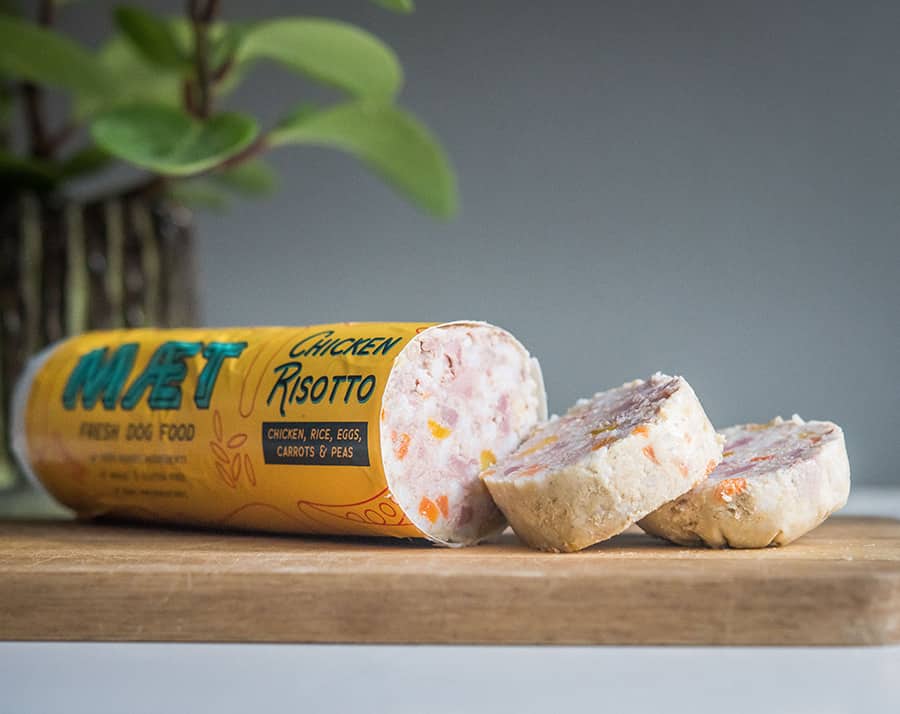 What would your dog choose for himself?
Pure ingredients mean your dog has a delicious and healthy meal, every day! Looking forward to a …
✅ Happy and healthy dog with one
✅ Balanced energy level,
✅ Better digestion and more uniform bowel movements
Your dog will thank you.
Order MÆT
A healthier and easier everyday life with fresh dog food
As a dog owner, you want the best for your dog – so do we. All dogs deserve a long and healthy life and therefore it is hugely important what they get to eat.
You can feel confident that your dog is getting the necessary vitamins, minerals, fiber and protein. Put the worries away and have more time for a lot of wonderful experiences with your best four-legged friend ❤️
Order MÆT
Questions and answers
What is the best dog food for my dog?
In general, the best dog food is made from clean and easily processed raw materials without fillers.
If you experience that your dog often has stomach or intestinal problems, then it may be due to the diet. Likewise, it can be due to a wrong diet if your dog's fur and skin look dull or irritated. Bad breath can also be caused by a bad diet.
Feel free to consult a veterinarian so that your dog can get a professional assessment. Rash, stomach problems, etc. can also be caused by various allergies, and therefore it is always good if you seek advice and guidance from the vet.
Why fresh dog food?
MÆT's fresh dog food is made from the best Nordic ingredients. There are no preservatives or added dyes and flavors. Fresh dog food is easily prepared with sous vide, which increases your dog's absorption of the food's nutrients.
Fresh dog food has a much higher uptake than other types of dog food. If you think your dog deserves fresh, healthy and flavorful food, try fresh dog food.
Can puppies eat SAT of fresh dog food?
Yes. Puppies, however, have some special needs in their diet, so you need to supplement with some supplements. When feeding your puppy, we recommend adding A38 as a calcium supplement and eggs as a phosphorus supplement.
When your puppy is 4 weeks old, it can start eating MÆT meals (Pork Deli or Chicken Deli) – these meals are soft and therefore easy to chew. Your puppy can eat SATISFIED Risotto meals (Chicken Feast Risotto or Pork Party Risotto) from the age of 8 weeks.
How do I find nutritional content?
Fresh dog food from MÆT contains the raw materials' natural nutrients, and we only add extra vitamins and minerals to ensure your dog a complete meal.
You can find the nutritional content, such as protein, fat and vitamin content on the product pages. See all our fresh dog meals here.
Buy MÆT in several ways
Get MÆT s dog food from the best ingredients delivered right to your door or buy in a store near you. We make it easy to be a dog owner and your dog will love you for it.