Pork Risotto
MÆT Pork Risotto dog food with delicious pork, carrots, spinach, cauliflower and rice. A complete food for dogs packed with healthy proteins, vitamins, minerals and fiber.
Suitable for dogs with sensitive stomachs. The food is gluten-free.
NET WEIGHT: 500 g
CONTENTS: Pork (53%) (meat and organs), water, rice, carrot, cauliflower, spinach, potato fiber, vitamins and minerals.
39,00 kr.
In stock
FRESH NORDIC INGREDIENTS
PORK & ORGANS, RICE, CARROTS, CAULIFLOWER, SPINACH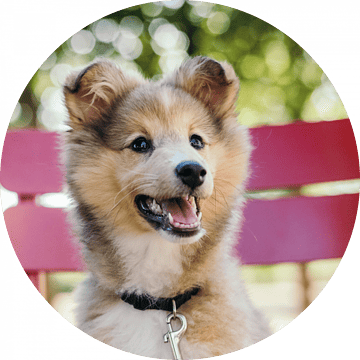 Daily dosage
Recommended daily dosage: 2.5% of the dog's body weight.
Weight / Recommended daily ration
5 kg: 125-150g
10 kg: 250-300g
20 kg: 500 (equivalent to approx. 1 sausage)
30 kg: 750g
35 kg: 875g
40 kg: 1,000g (equivalent to approx. 2 sausages)
When dosing, take into account the dog's activity, exercise, other nutrition and snacks.
"Eigil is a really picky stick, but he smears the fresh quality food from MÆT Pets.
Too much popular dog food contains waste residues and sawdust. We choose instead to prioritize quality, as it is absorbed more easily, gives better digestion and nicer fur - and most importantly a happier dog.
Who does not want it for his best friend, and then even without being ruined. "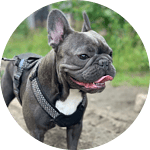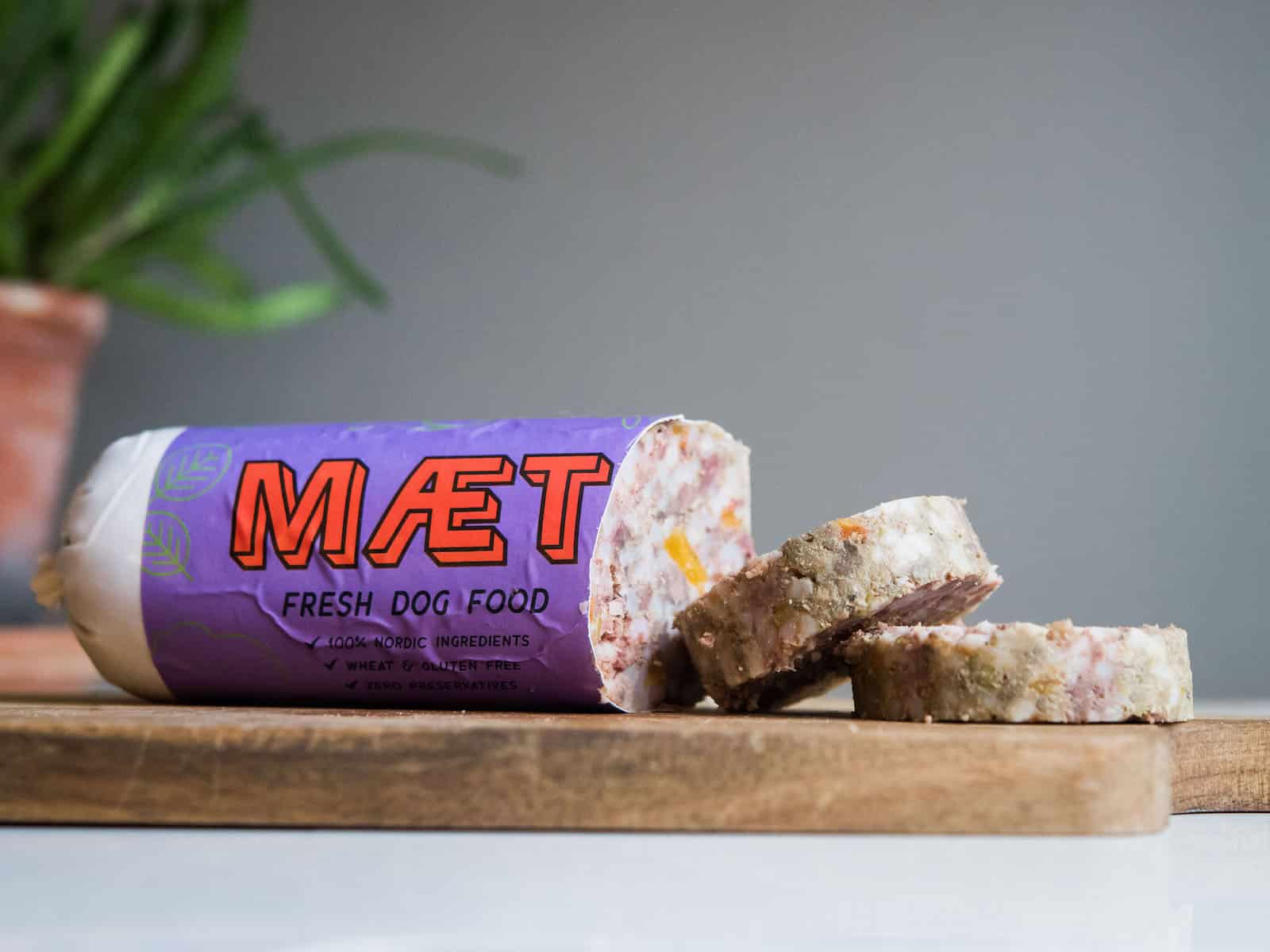 Dog food with pork and healthy vegetables
Carrots and spinach contain vitamin A, which helps lower cholesterol levels.
Spinach also contains magnesium and zinc, which are good for muscles, bones, nerves and heart function. Cauliflower is rich in vitamins C and K, as well as minerals such as calcium and potassium, which support vision, muscle, the immune system and colon health.
Pork Risotto is especially good for dogs with sensitive stomachs, as rice helps create a natural balance in your dog's stomach. In addition, the risotto meals are suitable as allergy-friendly dog food.
Nutrition information
A complete meal with meat, vegetables and high-fiber rice.
Contains all the nutrients, vitamins and minerals
which your dog needs.
NUTRITIONAL CONTENT
Energi/Energy 6.5 MJ/kg 1063 kcal/kg
Protein ……………………….. 9.0%
Fat/Fat ……………………….9.3%
Fiber ………………………….. 0.7%
Ash ……………………. 1.6%
Calcium ……………………… 0.2%
Phosphorus ……….0,1%
Liquid content: 68.9%.
Meat content: 53% meat content
Naturally Contained Nutrients:
Vitamin A 330 IU/kg, Vitamin D 358 IU/kg, Vitamin E 42 IU/kg, Vitamin C 69 mg/kg, Vitamin B1 0.6 mg/kg, Vitamin B2 3.4 mg/kg, Vitamin B6 0.9 mg/kg, Vitamin B12 19 μg/kg, biotin 801 μg / kg, niacin 12 mg / kg, pantothenic acid 6 mg / kg, folic acid 0.08 mg / kg, zinc 68 mg / kg, sodium 1200 mg/kg, iron 70 mg / kg, copper 50 mg / kg, potassium 1.8 g / kg, iodine 430 μg / kg.
Of which added nutritional additives:
Vitamin D 450 IU / kg, Vitamin E 40 IU / kg, zinc 60 mg / kg, magnesium 320 mg / kg, copper 5 mg / kg, manganese 1.8 mg / kg, iodine 430 μg / kg.
Nordic raw materials
Fresh meat and vegetables
Filled with vitamins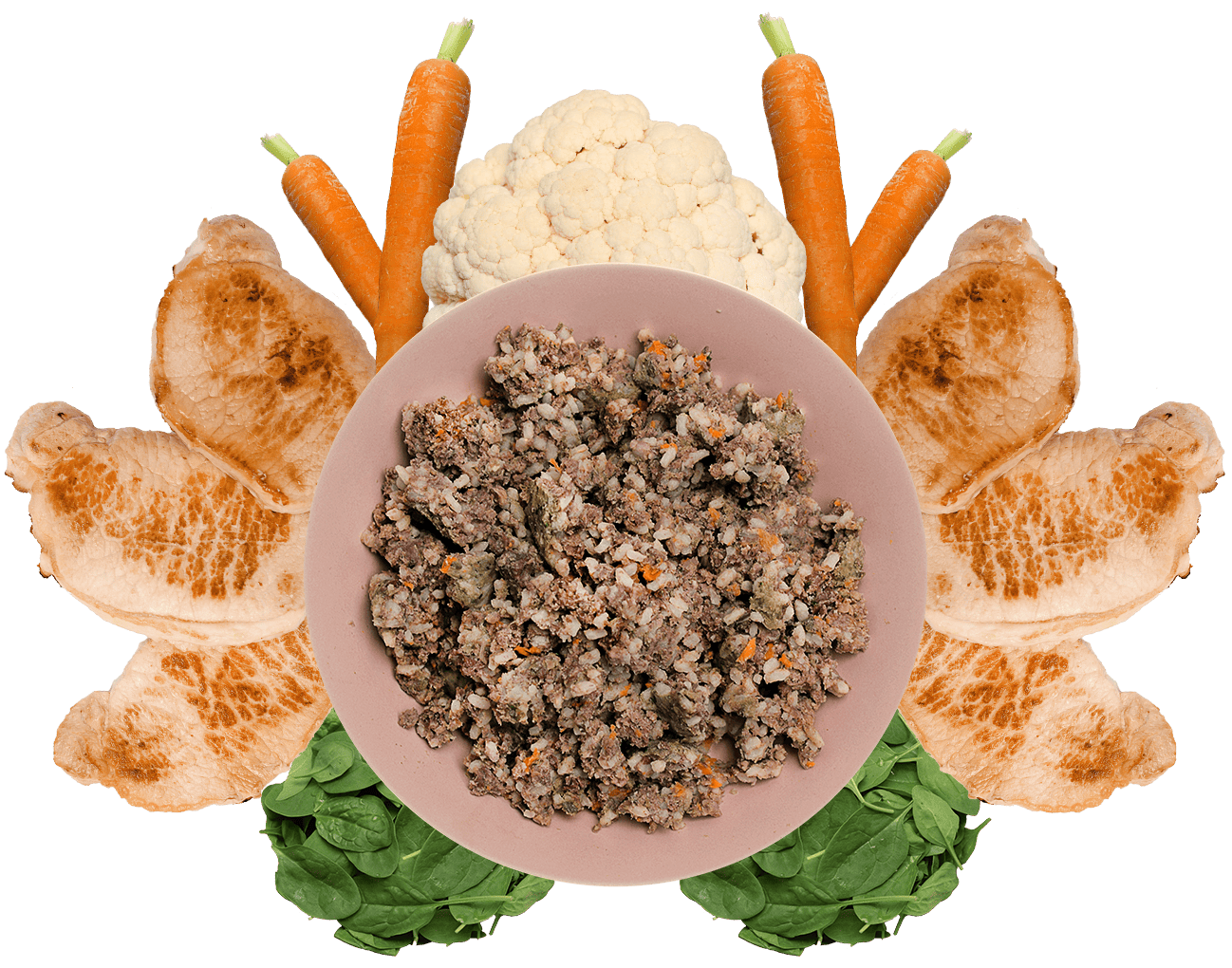 Single protein
High digestibility
No preservatives
Questions and answers
What does MÆT Pork Party Risotto contain?
MÆT s Pork Party Risotto consists of fresh and Nordic ingredients. Pork Party Risotto consists of 53% pork and organs, as well as rice and vegetables. There are no preservatives, dyes or flavors in. The only additives in Pork Party Risotto are extra vitamins and minerals, such as vitamins D and E, zinc and magnesium.
Why should I choose fresh dog food?
MÆT's fresh dog food is made from the best Nordic ingredients. There are no preservatives or added dyes and flavors. Fresh dog food is easily prepared with sous vide, which increases your dog's absorption of the food's nutrients.
Fresh dog food has a much higher uptake than other types of dog food. If you think your dog deserves fresh, healthy and delicious food, try fresh dog food.
What is the difference between Deli and Risotto dog food?
There is no grain or gluten in MÆT's Deli recipes. They have a low fat percentage, and are especially suitable for dogs that need to take care of their weight.
MÆT's Risotto recipes contain rice, but they are still gluten-free. Rice is good for creating a good and healthy balance in dogs' gastrointestinal system.
Both Deli and Risotto are made from fresh Nordic ingredients. They are free of preservatives, dyes and flavors. Only extra vitamins and minerals have been added.