Fresh dog food – a further development of wet food
MÆT 's fresh dog food is a further development of traditional wet food. It has the same soft consistency and gives your dog the same benefits – plus even more! Fresh dog food consists of Nordic vegetables and high-quality meat, which has been cooked mildly (sous-vide) to preserve the nutrients. The food is packaged in sausage form, which is stored refrigerated. All you have to do is take the food out of the fridge and cut it out, then it is served.
✅ Great taste and scent – the dogs love it!
✅ With all the necessary vitamins and minerals
✅ Admissibility of 86%!
✅ Provides nice fur and good digestion
✅ No preservatives, flavors or colors
Order sample package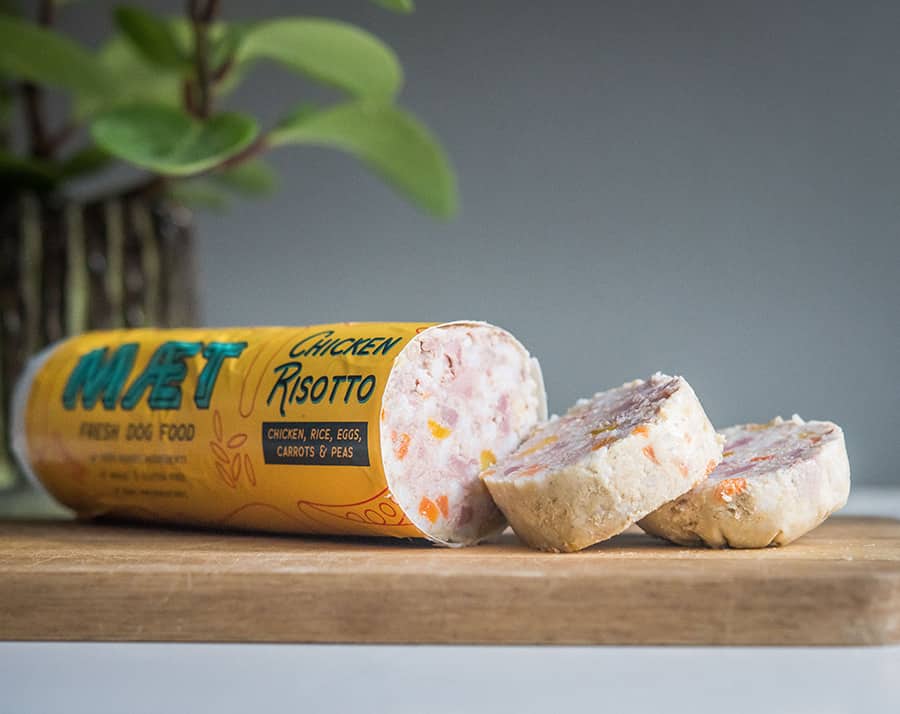 Vores medlemmer siger...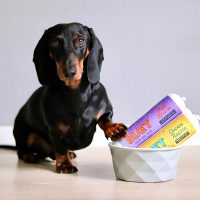 ⭐️⭐️⭐️⭐️⭐️
"The delivery experience was just superb and both freshness and aroma in the sausages, made my dog almost swallow the food and left his complete food left in the bowl. Dosage schedule on the website and the sausages divided by grams, it could not be easier. No hassle. cut out instead of pouring complete food into a bowl. As well as price corresponds to what I will have to give for all other dog food. My dog looks forward to every meal and it is nice to see. The coat, energy and satiety are clearly visible. I can say without lying that I have never seen my dog more comfortable. "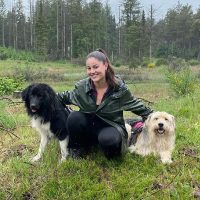 ⭐️⭐️⭐️⭐️⭐️
"We struggled for a long time with Milo's incredibly bad and delicate stomach. 🥴💩 I have long been looking for a healthy and nutritious meal that could meet all the necessary nutritional needs, and to my great surprise, the fresh dog food fell into good soil. Today use we MÆT for everything, from treats, fillings to king, and the dogs' daily meals🤩 I very rarely write recommendations unless I really feel it can make a huge difference to other frustrated dog owners like we once were. pokus, it is pure nutritional knowledge and recommendation from here🙏🏼 "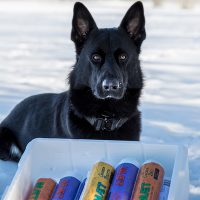 ⭐️⭐️⭐️⭐️⭐️
"I was made aware of MÆT via Instagram, and at that time I had never heard of fresh dog food before. But after reading the ingredients closely (and concluding that it was just good ingredients!), I gave MÆT a try. And "It was a great success! My German Shepherd may be skeptical when it comes to new foods, but MÆT slipped down without any problems. In addition, their Chicken Feast Risotto has proven to be good if the stomach sometimes teases a little."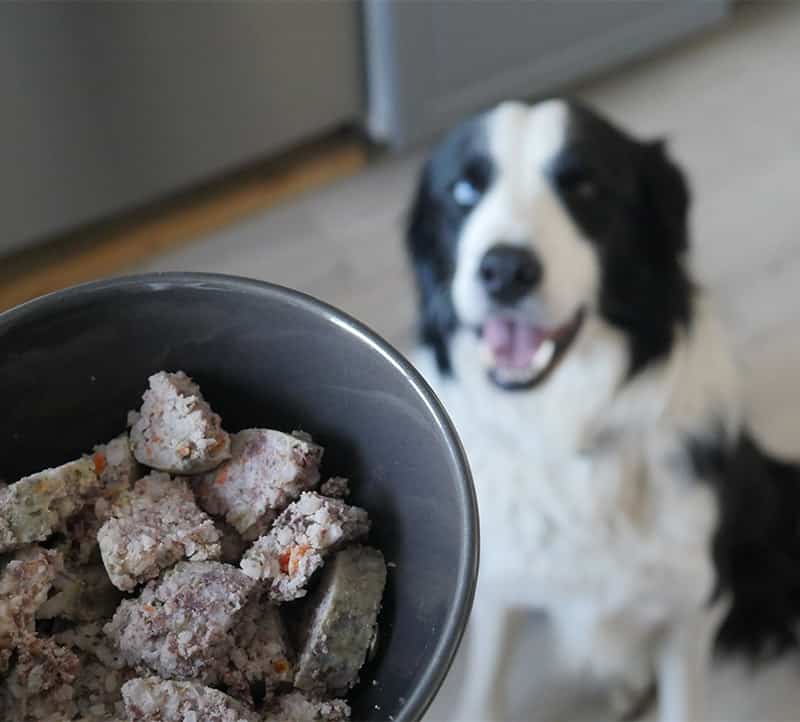 Hvad ville din hund selv vælge?
Hvis hunde selv kunne vælge deres mad, ville de vælge noget med masser af smag og lugt. MÆT's friske hundemad giver din hund en fantastisk smags- og lugtoplevelse, så selv de kræsne hunde får lyst til at spise. Så snart pakken kommer ind af døren, vil din hund kunne dufte de lækre ingredienser i den friske hundemad fra MÆT.
Mange af vores medlemmer oplever, at deres hund bl.a. bliver gladere, får bedre fordøjelse, flottere pels, mindre og mere ensartet afføring. Derudover har MÆT's hundemad et lavere energiindhold end meget andet hundefoder, så din hund kan spise en større portion for mindre kalorier. Det gør det nemmere at forhindre overvægt hos en madglad hund.
Order sample package
A healthier and easier everyday life
Life as a dog owner is busy – we want to make it easier for you. Let us deliver fresh and healthy dog food directly to your door so you can spend more time with your dog. While you have fun, we manage all the practicalities.
As a dog owner, you want the best for your dog – so do we. All dogs deserve a long and healthy life and therefore it is hugely important what they get to eat. When you give your dog fresh dog food from MÆT , you can feel confident that it is getting the necessary vitamins, minerals, fiber and proteins. Put the worries away and have more time for a lot of wonderful experiences with your best four-legged friend ❤️
Order sample package
From dog parents to dog parents
As dog parents, we say "No thanks to bad dog food". Our dogs deserve healthy and fresh quality food – just like us. Food is very important for your dog's health.
We started MÆT because our dog Lenni had become accustomed to freshly produced dog food when we lived abroad and we could feel the food's positive effect on him. At home in Denmark, we could not find fresh dog food in some places, and therefore we took matters into our own hands.
We started MÆT in the summer of 2020, and a little over a year later, more than 1000 Danish dogs smear a fresh, nutritious and healthy meal every single day.
Order sample package
Gratis ressourcer om hundemad
Det er ikke foderets konsistens eller form, der er vigtigst – det er selve indholdet. Læs mere om sund hundeernæring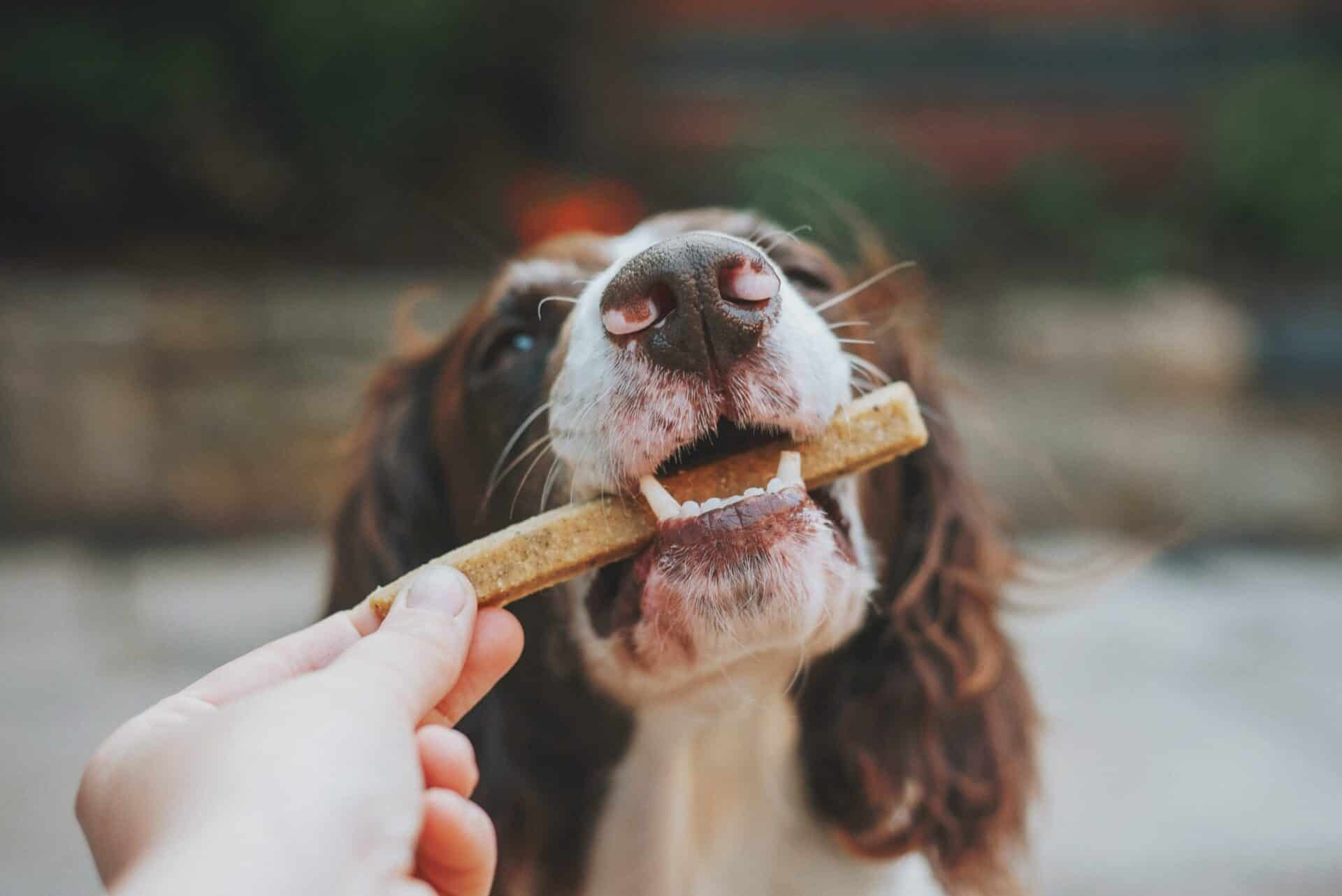 As a dog parent, you need to be aware of the concept of dog treats. Pet shops around the world offer a wealth of options when it comes to treats…
Continue reading
Questions and answers
Why should I choose fresh dog food?
MÆT's fresh dog food is made from the best Nordic ingredients. There are no preservatives or added dyes and flavors. Fresh dog food is easily prepared with sous vide, which increases your dog's absorption of the food's nutrients.
Fresh dog food has a much higher uptake than other types of dog food, so if you think your dog deserves fresh, healthy and flavorful food then try fresh dog food.
How do I find nutritional content?
Fresh dog food from MÆT contains the raw materials' natural nutrients, and we only add extra vitamins and minerals to ensure your dog a complete meal.
You can find the nutritional content, such as protein, fat and vitamin content on the product pages. Read e.g. about Chicken Risotto's nutritional content here.
What is the difference between Deli and Risotto dog food?
MÆT Deli does not contain grains or gluten. They have a low carbohydrate percentage, and are especially suitable for dogs that need to take care of their weight. If you do not want to feed with grain, MÆT s Deli recipes are a good and healthy alternative. The deli products are grain and gluten free, and especially good for dogs that need to lose weight due to the lower content of carbohydrates.

MÆT Risotto contains rice, but is gluten-free.

Rice is a healthy, gluten-free carbohydrate and can be extra good if your dog tends to have an upset stomach, as cooked rice can soothe the gastrointestinal tract. Fresh dog food with rice is gluten-free, so if your dog has a gluten allergy, it can still eat MÆT s Risotto dog meals.
Both Deli and Risotto are made from fresh Nordic ingredients. They are free of preservatives, dyes and flavors. Only extra vitamins and minerals have been added.
Buy MÆT in several ways
Get MÆT s dog food from the best ingredients delivered right to your door or buy in a store near you. We make it easy to be a dog owner and your dog will love you for it.